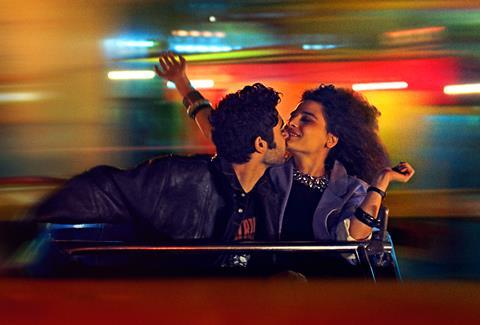 Saudi Arabia's Red Sea International Film Festival (RSIFF) has unveiled the titles in the Arab Spectacular strand of its inaugural edition, which is due to unfold in the port city of Jeddah from December 6-15.
The section aimed at new Arabic-language features will showcase eight titles from Iraq, Palestine, Algeria, Tunisia, Egypt, Lebanon and Morocco.
"We know that the Arab world is not a monolith, and to see such diversity in the types of stories being told through these films is unique," said RSIFF artistic director Edouard Waintrop.
"We are proud to be able to showcase these films that speak to the progress and evolution of our industry, from some prominent Arab names."
Palestinian director Rashid Masharawi's new feature documentary Recovery will make its world premiere in the selection. Using photographs from the 1930s to 1948, the deeply personal work explores the Palestinian port of Jaffa, where Masharawi's father lived before being forced to emigrate in 1948.
Further world premieres include Iraqi director Albaqer Jaafar's feature documentary Take Me to the Cinema about a former soldier who revisits his old dreams of becoming an actor and filmmaker.
Algerian producer Djaffar Gacem's feature debut Héliopolis will get its international premiere in the strand. The historical drama explores the events leading up to the 1945 Sétif and Guelma massacre — an Algerian uprising that was brutally suppressed by French colonial authorities, helping sow the seeds for the country's 1954-62 War of Independence.
The film is Algeria's submission to the best international film category of the 2022 Oscars. Other Oscar hopefuls in the RSIFF line-up include Nabil Ayouch's Casablanca Beats. The work, which world premiered in competition at Cannes this year, follows a group of Moroccan youngsters from an underprivileged Casablanca neighbourhood taking part in a hip-hop class.
Further new films include Tunisian actor Dhafer L'Abidine's feature directorial debut Tomorrow (Ghodwa) about an estranged father and son who are brought together after the former falls ill. The film is due to world premiere in Cairo prior to its screening at the RSIFF.
The selection also showcases Their Heads Are Green And Their Hands Are Blue, a joint work by US producer Jay Bulger and Moroccan producer Karim Debbagh following in the footsteps of composer and writer Paul Bowles, who in 1959 published a brief account of his three years travelling throughout Morocco.
It also features 2021 festival hits Memory Box, from Lebanese directorial duo Joana Hadjithomas and Khalil Joreige, which world premiered in competition at Berlin; and Iraqi director Shawkat Amin Korki's fourth film The Exam, which debuted in competition at Karlovy Vary over the summer.
The inaugural edition of the RSIFF will screen around 100 titles, with the full selection to be announced in the coming days.