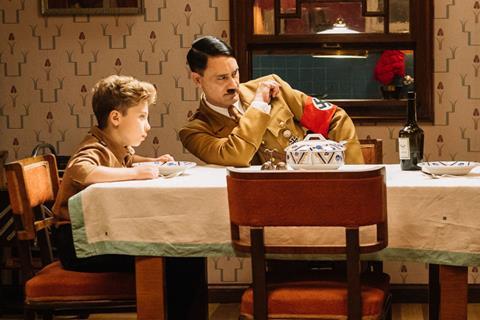 Taika Waititi's Jojo Rabbit has won the Toronto International Film Festival's (TIFF) Grolsch Global People's Choice Award, a key bellwether in the Oscars race.
In the last decade every winner has gone on to earn a best picture nod except Nadine Labaki's Where Do We Go Now? from 2011. Last year's winner Green Book won the best picture Oscar, and the other TIFF audience award winners from the last 10 years to do that were 12 Years A Slave (TIFF 2013), and The King's Speech (TIFF 2010). Slumdog Millionaire won the TIFF prize in 2008 and also triumphed at the Oscars.
Festival brass revealed winners on Twitter on Sunday (15) after they announced last week they were cancelling the awards show as most filmmakers would already be on their way home.
Waititi directed and stars in Jojo Rabbit as Adolf Hitler, who becomes an imaginary friend to a young German boy growing up during the war. Scarlett Johansson plays the boy's mother who hides a Jewish girl in their home.
Fox Searchlight will release its awards contender in North America on October 18. Waititi took to Twitter and said, "#JojoRabbit is a story of tolerance and understanding set in a time that lacked both, and I hope in making this film we can remind ourselves that it's still possible to connect with each other even under the most chaotic of circumstances."
TIFF brass announced on social media that Galder Gaztelu-Urrutia's Spanish genre film The Platform, which Netflix snapped up for most of the world during the festival, won the Grolsch Global People's Choice Midnight Madness Award.
The Cave won the Grolsch Global People's Choice Documentary Feature Award, Sophie Deraspe's Antigone – which WaZabi Films sells internationally – won the Canada Goose award for best Canadian feature film. The City Of Toronto Award for best Canadian Feature First Feature Film has gone to Matthew Rankin's The Twentieth Century.
The NETPAC Award (Network for the Promotion of Asian Pacific Cinema) went to Oualid Mouaness's 1982, another title on the WaZabi slate, while the IWC Short Cuts Award for Best Short Film went to Lasse Linder's All Cats Are Grey In The Dark, and the IWC Short Cuts Award for Best Canadian Short Film went to Chloé Robichaud's Delphine.
As previously announced last week, Pietro Marcello's Martin Eden won the 2019 Toronto Platform Prize and TIFF gave FIPRESCI awards to Heather Young's Discovery selection Murmur, and Coky Giedroyc's Special Presentations entry How To Build A Girl.