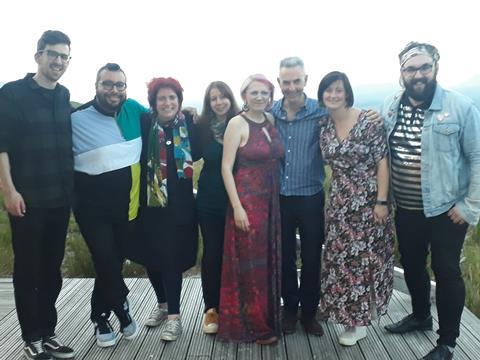 Young Films Foundation's second-annual residency on Scotland's Isle of Skye welcomed mentors including producer Margaret Matheson (Run, Lore), actor Joe Thomas (The Festival, The Inbetweeners), director Jonny Campbell (Informer, Westworld), writers Olivia Hetreed (Girl With A Pearl Earring) and Francesca Gardiner (The Man In The High Castle, Killing Eve) and more to mentor six selected rising Scottish film and TV creatives.
Other top industry attendees included Dan MacRae (StudioCanal), Dionne Farrell (BBC Films), Celine Coulson (Film4), Isabel Davis and Sean Greenhorn from Screen Scotland, producers Beth Willis (Kiri, National Treasure) and Liz Lewin (Derry Girls).
The six participants, selected from more than 100 applicants, were:
Daisy Costello, producer (Glasgow) pitching Class A;
Emma Lennox, writer (Glasgow) pitching UnFair;
John Murdo MacAulay, writer (Isle of Lewis) pitching As the Women Lay Dreaming;
Omar Raza, actor and writer (Glasgow) pitching Bromance;
Michael Lee Richardson, writer (Glasgow) pitching Out;
Ali Taylor, writer (Glasgow) pitching My Boy
The scheme is open to writers, directors and producers who are Scottish residents, working across film or TV in Gaelic or English.
The residency (which ran June 24-30) is sponsored by Screen Scotland, Highlands and Islands Enterprise, MG Alba, Sabhal Mòr Ostaig, Film4/Channel 4, BBC Films, BBC Scotland, Toravaig Distillery and other local businesses.
As a production company, Young Films' credits include Gaelic-language feature Seachd, The Inbetweeners (TV show and film), and Gaelic-language TV drama Bannan (which will start shooting its seventh season on Skye in September).
The sister non-profit Young Films Foundation was set up in late 2017.
The residency consisted of masterclasses, panel discussions, one-to-one mentoring, as well as practical acting, directing and editing workshops as the six participants each shot one scene from their upcoming projects at Skye Space Studio in Sabhal Mòr Ostaig.
At the end of the week, the participants screened their scenes and re-pitched their projects to industry experts.
Young told Screen, "We have massive talent in Scotland and I wanted to find a way to help mentor them. At the end of this week, hearing feedback from the industry here, I know some of these projects are going to be made. The participants seem to feel this week has transformed them and their projects. That feels like a great result and a good step forward for Scotland."
Participant Omar Raza said he had gained new insight into his TV series pitch Bromance, about a 30-year-old gay Muslim virgin living in Glasgow, after speaking with mentors all week, as well as feeling more confidence as a creator. He said, "It's amazing being in front of such expert professional eyes, it's energised me."