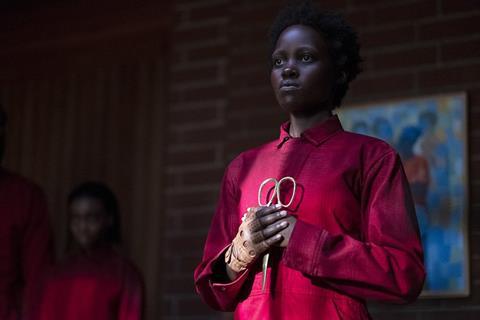 Jordan Peele's horror film Us, the director's follow-up to his phenomenally successful debut Get Out, rolls out widely in the UK this weekend via Universal.
Us is also being released in the US today, where the film's opening is being forecast to top $40m (£30.6m) by various reports. That would eclipse the US opening of Get Out, which started with $33.4m (£25.5m) and closed on a hugely impressive $176m (£134.3m).
In the UK, Get Out opened with £2.2m and closed on £10.4m. Based on those figures, Us is predicted to open a little behind the US figure, using the conventional yardstick of a UK that is 10% of a film's US bow, minus currency conversion. In that respect, an opening of £2.5m - £3m would be roughly in line with expectations.
US is going head-to-head with Disney's Captain Marvel, which was up to £25.7m in the UK as of Wednesday (March 20).
Also opening in the UK this weekend is Studiocanal's The White Crow, Ralph Fiennes's drama about Russian ballet dancer Rudolf Nureyev's dramatic defection to the West in the 1960s. Fiennes also stars in the film alongside Oleg Ivenko, Adele Exarchopoulos, and Chulpan Khamatova.
Fiennes' two previous films as a director, the Shakespeare adaptation Coriolanus in 2011 and the period drama The Invisible Woman in 2013, in both of which he starred, garnered £1m and £900,000 in total respectively.
Also on release this weekend is Justin Baldoni's US romantic comedy Five Feet Apart, which Vertigo is releasing into 100+ cinemas. The film was released last week in the US, taking $13.2m (£10m) in its opening session.
Further new releases include Christophe Honore's French drama Sorry Angel via Thunderbird Releasing. The film premiered in Cannes last year in Competition. Dogwoof is releasing Bing Liu's documentary Minding The Gap, about three young American men who bond through skateboarding to escape their volatile family life in their Rust Belt home town. Kaleidoscope is releasing 90 Minutes, the football-themed film from writer-director Simon Baker which features Rio Ferdinand in its cast.
In holdovers, Entertainment Film Distributors' Fisherman's Friends, which impressed on its UK debut with an opening session of £1.2m, also posted strong mid-weeks, rising to £2.4m cume by close of play on Thursday, no small result for a low-budget UK feature. For comparison, the film is roughly £750,000 ahead of Finding Your Feet at this stage. That film ended on £5.8m in the UK (released by eOne), which Fisherman's could surpass if it has the legs.