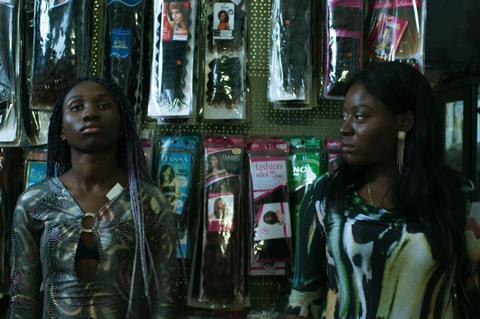 The producer and writer-director of Austria's contender for the international feature Oscar have hit back at the Academy following the disqualification of their film.
Sudabeh Mortezai's Joy, which centres on Nigerian sex workers in Vienna, was taken out of the race earlier this week after the Academy's review process concluded that two-thirds of the dialogue is in English.
But in a letter to the Academy, producer Oliver Neumann of Freibeuter Film and writer-director Mortezai urged the selection committee to reconsider the decision and claimed their "calculation is not correct."
The filmmakers assert that English makes up less than 50% of the dialogue, with the rest consisting of Nigerian dialect Bini, German and Nigerian Pidgin.
Pidgin is a dialect that mixes English with several native languages and is intelligible for English speakers, according to the filmmakers. This was backed up by test screenings ahead of release with English speakers, which led to the inclusion of subtitles for the Pidgin scenes.
"We strongly feel that Joy is being disqualified on erroneous assumptions and would like to open a conversation with you and find a way to clarify this," said the letter.
Freibeuter Film is now awaiting a response from the Academy.
By coincidence, Joy is the second film featuring Nigerian characters to be ruled ineligible to compete for what until this year was known as the Academy Award for best foreign-language film.
Nigeria's Lionheart was also disqualified last week for being predominantly in English, a move that came under fire from critics who pointed out that English is one of the country's official languages as a result of British colonsation.
Joy marks the fourth feature of German-born Mortezai. The film debuted at Venice in 2018, where it played in Venice Days and won the Europa Cinemas Label. It went on to win top prize at the BFI London Film Festival a month later.
It is not the first time Austria has been disqualified. Michel Haneke's Cache was taken out of the race in 2005 not because it was found to be predominantly in English, but because that dialogue was mainly in a language (French) other than that of the submitting country.
The rules changed in 2006 in an attempt to open up more opportunities for films from diverse cultures and now state that "an international film is defined as a feature-length motion picture (defined as over 40 minutes) produced outside the United States of America with a predominantly non-English dialogue track."
Austria has since won the Academy Award twice, for Stefan Ruzowitzky's The Counterfeiters in 2007 and Michel Haneke's French-language Amour in 2012.