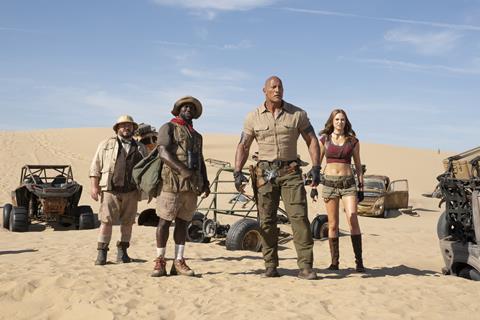 Global cinemagoing may be in a pandemic slump, but Columbia Pictures' Jumanji: The Next Level has managed to cross the $800m mark in worldwide box office thanks to continuing runs in markets including Australia, Brazil and Norway.
The action comedy sequel starring Dwayne Johnson, Jack Black, Kevin Hart, Karen Gillan, Nick Jonas and Awkwafina reached a worldwide total of $800.045m through Tuesday, July 7, with $319.2m coming from North America and $480.9m from international markets.
Produced by Johnson's Seven Bucks Productions and Matt Tolmach, the film has been playing in North America and more than a dozen overseas territories, according to Sony, with smaller markets including Austria, Hungary and Portugal in Europe and Colombia in Latin America as well as Saudi Arabia and UAE.
Before the coronavirus pandemic caused cinemas around the globe to shut their doors, The Next Level began its roll out on December 6 last year with a $52.8m opening in 18 markets. The following weekend, a $59.3m launch in North America – a December opening record for a comedy and for Sony Pictures - and openings in 34 more international markets brought the box office total to $213m.
The sequel to 2017's Jumanji: Welcome To The Jungle, which grossed $962m worldwide, The Next Level was directed by Jake Kasdan, written by Kasdan, Jeff Pinkner and Scott Rosenberg and produced by Tolmach, Kasdan, Johnson, Dany Garcia and Hiram Garcia.