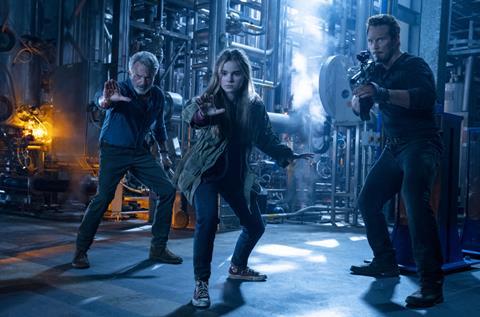 Jurassic World: Dominion grossed a confirmed $136.3m at the global box office as Universal-Amblin's adventure kept Top Gun: Maverick and new arrival Lightyear at bay to reign supreme as the weekend champion.
After several weeks in release Colin Trevorrow's latest entry in the Jurassic franchise which began 29 years ago stands at $623.6m worldwide. Seventy-three international territories brought in a further $77.3m after a 54% drop for a $373.5m running total. The North American tally is $250.1m after two weekends and the film ranks number one there too.
China generated $23.2m following a 56% drop in the second session for a $92m running total. The film ranks number one and is the top non-local release of the year to date. It is also the third highest pandemic release of a Hollywood title after overtaking Free Guy on Sunday and plays in 10,149 cinemas, despite the ongoing Covid-related closure of venues in Shanghai.
The dinosaurs also rank number one after two sessions in each of the following: the UK, where $7m over a heatwave weekend resulted in a $26.6m tally; France, where $4.5m increased the running total to $15.4m; Germany on $12.6m after a $3.5m weekend; and Spain on $10m after $2.3m.
Dominion places second in Mexico behind new opener Lightyear and stands at $36.1m after $3.4m in the third weekend; and second in Australia where $4.1m boosted the tally to $15.4m after two sessions and the film ranks second behind Top Gun: Maverick but ahead of Lightyear.
Disney/Pixar's 'Lightyear' grosses $85.6m in global debut
Disney/Pixar's Lightyear earned an estimated $85.6m in its global debut, with a confirmed $33.6m of that amount coming from the international arena. The Toy Story spin-off and Buzz Lightyear origins story grossed $7.6m in Mexico, $4.5m in the UK, $2.5m in Argentina, $2.4m in Brazil, $2.1m in Australia, $1.7m in South Korea, $1.4m in Colombia, $1.3m in Central America, $1.2m in Spain and $1m in Italy.
The latest Pixar offering delivered top pandemic debuts in Mexico, Argentina, Central America, Peru, Bolivia, Uruguay and the Philippines, as well as the Latin American region as a whole. Disney executives expect solid holds heading into school holidays and reported that in several markets Saturday grosses were "significantly" higher than Friday numbers, indicating that families – a crowd that has typically stayed away during the pandemic – ventured into cinemas over the weekend.
The estimated $52m North American launched place second behind Jurassic World: Dominion in a solid debut. However box office observers have come to expect more from the Pixar stable and the opening weekend numbers may have something to do ongoing challenges in getting family audiences back into cinemas; and the fact that Disney conditioned audiences to expect Pixar films to open directly on Disney+ during the pandemic and they may need to unlearn that habit after the studio released a Pixar title exclusively in cinemas for the first time since March 2020.
By way of comparison, lower-grossing Pixar releases in North America include Onward on $39.1m in March 2020, Ratatouille on $47m in June 2007, Coco on $50.8m in November 2017 and Cars 3 on $53.7m in June 2017. Numbers are not adjusted for inflation.
'Top Gun: Maverick' poised to cross $900m worldwide
Third place in the global weekend box office pantheon went to Paramount and Skydance's Top Gun: Maverick, which earned a confirmed $86.6m for $888.1m and will pass $900m in the next day or two. A $42m international session delivered an impressive 21% drop and elevated the running total to $421.4m, while $44.6m resulted in $466.7m in North America.
Now in its fourth session, Maverick lived up to its reputation as a Tom Cruise stronghold as $5.5m secured number one and pushed the running total to $43m. It ranks second in the UK and added $5.2m after a 24% drop for a muscular $71.7m; number one in Australia where $4.8m took top spot and boosted the running total to $40.1m; and second in France on $3.4m for $35.1m. Germany delivered $2m for $21m, Brazil $1.9m for $15.9m, and Taiwan $1.6m for $13.9m. The North American gross stands at $466.7m following a $44.6m fourth weekend.
Park Hoon-jung's South Korean mystery sequel The Witch 2: Part 2. The Other One grossed an estimated $9.9m on its worldwide debut and ranks fourth in the charts. NEW distributes the Goldmoon Film title in its home country and Contents Panda has licensed international rights to 124 territories.
Disney/Marvel Studios' Doctor Strange In The Multiverse Of Madness added an estimated $6.7m globally for $942.5m. Internationally the tentpole brought in a confirmed $3m for a $537.8m running total. Its top five markets are the UK on $51.8m, South Korea on $49.3m, Mexico on $41m, Brazil on $33.6m and France on $28.2m.