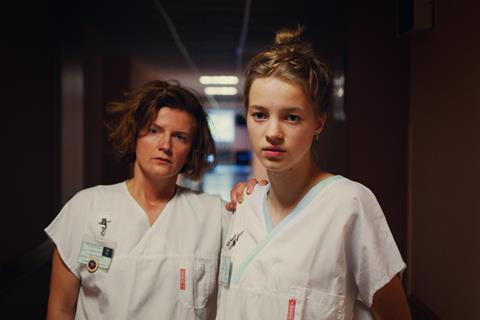 Karlovy Vary's Eastern Promises industry strand has unveiled nine winners across its three works in progress programmes: Works In Progress; Works in Development – Feature Launch; and First Cut+. The event took place online this year from July 28-August 12.
Scroll down for full list of winners
Among the winners were Victim, from Slovakia, Czech Republic and Germany, directed by Michal Blaško and produced by Jakub Viktorín and Pavla Janoušková Kubečková, which will follow a Ukrainian woman in a small Czech town fighting for justice when her son is attacked and blames the Roma community. It collected the Works in Progress TRT Award worth €5,000 ($5,886).
From the Czech Republic, Head Nurse, directed by Jan Vejnar and produced by Kamila Dohnalová, picked up the Works in Development - Feature Launch KVIFF & MIDPOINT Development Award worth €10,000 ($11,773) for further development. It looks at the different characters and situations encountered by the head nurse at a regional Czech hospital over her one-day shift.
An Owl, A Garden And The Writer, an Iranian-France co-production, won the Works in Progress Post-production Development Award. It sees director Sara Dolatabadi offering an intimate portrait of her father, famed novelist Mahmoud Dowlatabadi.
Taking two prizes in First Cut+ was The Hatcher from Polish director Grzegorz Mołda and producer Izabela Igel; the drama is about a young man released from a juvenile detention centre and a close bond he forms with his carer.
Hugo Rosák, head of industry at KVIFF, said: "What was important this year is that, despite the pandemic, we didn't break the tradition of bringing into the spotlight quality projects from our region that are in the making and which buyers and producers can advance closer to distribution. It's reassuring to see that an online format can deliver this."
Jurors across the various panels included Martina Bleis from Berlinale Co-Production Market and Connecting Cottbus, Yohann Comte of Charades, Danijel Hočevar of Vertigo and MIDPOINT, Michael Arnon of WOLF Consultants and Mirjam Klootwijk of Rotterdam.
The main Karlovy Vary International Film Festival runs as a physical event from August 20-28.
Winners list in full:
Works in Progress Post-production Development Award
An Owl, A Garden And The Writer (Iran-Fr), dir. Sara Dolatabadi; prods Amir Naderi, Sara Dolatabadi and Farhad Mohammadi
Works in Progress TRT Award
Victim (Slov-Czech-Ger), dir. Michal Blaško, prods Jakub Viktorín and Pavla Janoušková Kubečková
Works in Progress Karlovy Vary IFF Award
Tina & Megi (Geo-Ger), dir. Ioseb "Soso" Bliadze, prod Eva Blondiau
Works in Development - Feature Launch KVIFF & MIDPOINT Development Award
Head Nurse (Czech), dir. Jan Vejnar, prod Kamila Dohnalová
Works in Development - Feature Launch Special mention
Aliya (Isr-Rus-Pol), dir. Dekel Berenson, prods Marek Rozenbaum, Alexander Rodnyansky and Paul Wesley
Connecting Cottbus Award
The Bomber (Lat), dir. Pauls Kesteris, prod Inese Boka-Grūbe
Rotterdam Lab Award
Aliya (Isr-Rus-Pol), prod. Aleksandra Aleksander
In First Cut+ TRT Award
A Piece Of Sky (Switz-Ger), dir. Michael Koch, prod Christof Neracher
The Sub-Ti Award
The Hatcher (Pol), dir. Grzegorz Mołda and prod Izabela Igel
First Cut+ Award
The Hatcher (Pol), dir. Grzegorz Mołda and prod Izabela Igel