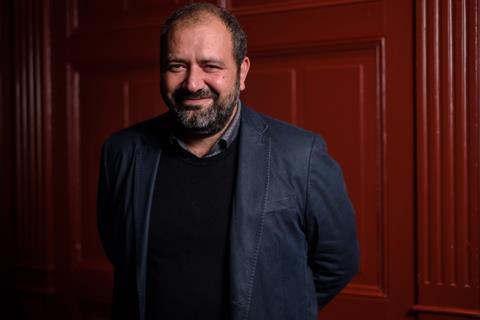 International Documentary Festival Amsterdam (IDFA) will present its lifetime achievement award to revered Armenian director Artavazd Peleshyan whose essay films have had a strong influence on the work on filmmakers including Jean-Luc Godard and Atom Egoyan. IDFA is set to take place from November 17-28 in Amsterdam.
Now in his 80s, Peleshyan is expected to make it to Amsterdam for this year's festival. His latest film La Nature, 15 years in the making, will also be part of the official programme.
"He is coming back with a beautifully impressionistic film on the relationship between humans and nature - on the grandeur of nature, its beauty, anger and musicality," IDFA director Orwa Nyrabia told Screen. "He will be in Amsterdam and we will do a retrospective of many of his films."
The festival will also host a 25th anniversary focus on Johan van der Keuken's 1996 documentary Amsterdam, Global Village which Nyrabia described as "a masterpiece." It is a four-hour 'direct cinema' documentary in which the director offered an intimate portrait of his home city. The film, which will be shown in a new print, will be part of a programme examining the "impact of colonial history on our life today."
Other titles likely to be included in this programme include French-Senegalese Alice Diop's Berlinale title We, about the experiences of the black and immigrant communities in the suburbs of Paris.
Hito Steyerl
Additionally, IDFA's traditional 'Top 10' strand, whereby a cultural figure selects 10 films to be shown at IDFA, will be curated this year by leading German filmmaker, writer and multi-disciplinary artist, Hito Steyerl. She is known in her work for exploring the effect of the digital world on art, the links between art and capitalism and the impact of artificial intelligence on human evolution.
"I discovered she has a brilliant following among the young team members [at IDFA]," Nyrabia explained. "They follow her work. They read her essays. They read her books."
Steyerl, who is professor for experimental film and video and the co-founder of the Research Center for Proxy Politics at the Berlin University of the Arts, started her career in documentary. Several of her works including 1998's Die Leere Mitte have screened at IDFA.
Steyerl's Top 10 will be complemented by a full retrospective of her art work at the Stedelijk Museum of Modern Art in Amsterdam. The festival will also ask how the film world "managed to lose someone who later on became one of the most prominent artists of the world," as Nyrabia puts it.
"There is this amazing level of independence, of singularity in the way she approaches her work. There is something [about her] that is about inspiring filmmakers to be unique," he said.
Steyerl's 10 films are expected to range from the work of Oscar winner Laura Poitras to that of radical German experimental documentary maker Harun Farocki.
New-look programme
Earlier this year, Nyrabia announced plans to shake up the IDFA programme. Alongside its international competition that will feature 15 feature -length titles, it will also now have the Envision Competition for films of over 40 minutes in length,
"It is exciting how this new structure changes the way we think about films," said Nyrabia. "Films that seem to be a little too classical, although very well made, now have a natural home in the international competition while films that really go an extra mile when experimenting with form, do not seem to be too much when we have the new Envision Competition. We can accommodate a wider range of filmmaking approaches this way."
The full IDFA 2021 programme will be announced in the autumn.