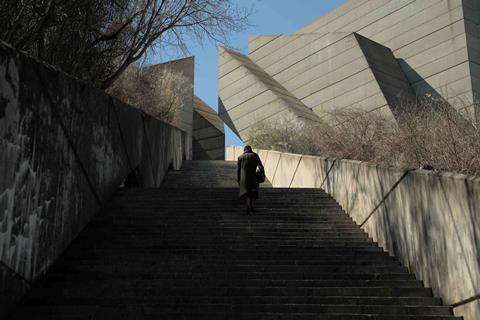 Karlovy Vary International Film Festival has unveiled the official selection for its 57th edition, including new features by Pascal Plante, Stephan Komandarev and Tinatin Kajrishvili.
The festival, which runs from June 30-July 8 in the Czech spa town, has nine world premieres and two international premieres in its main Crystal Globe Competition.
Canadian director Plante, whose Nadia Butterfly was in Cannes' Official Selection in 2020 and Fake Tattoos played in the Berlinale's Generation strand in 2018, world premieres arthouse thriller Red Rooms about a woman obsessed with a serial killer on trial.
Scroll down for line-up
Georgian director Kajrishvili's third feature Citizen Saint is a satirical parable about a saint who descends from a cross to live in a mining town. Kajrishvili's Brides won the Berlin Panorama audience award in 2014.
Bulgarian director Komandarev brings Blaga's Lessons, about a widow who is scammed out of the money she had saved for her husband's grave. His 2017 feature Directions premiered in Un Certain Regard at Cannes.
Fremont, by Iranian-UK director Babak Jalali, has its international premiere at Karlovy Vary, having previously been selected for Sundance NEXT and SXSW. The drama is about an isolated Afghan refugee in California who works at a fortune cookie factory and uses the cookies to build a bridge to the outside world.
Meanwhile, Lebanese director Cyril Aris world premieres Dancing On The Edge Of A Volcano about a film crew whose production is paralysed by the catastrophic explosion in the Port of Beirut in 2020. Aris's documentary The Swing played at Karlovy Vary in 2018.
Also world premiering are films by debut directors including Spanish actress and writer Itaso Irano, who co-wrote and starred in August Virgin which played in Competition at Karlovy Vary in 2019. Her first feature The Girls Are Alright centres on a group of young women who rehearse a play in a house in the country for a week.
Another feature debut is Ernst De Geer's Sweden-Norway-France co-production The Hypnosis, a satire about a woman who starts to lose all social inhibitions while trying to get a reproductive health mobile app off the ground.
Further Competition world premieres include Italian director Marco Righi's Where The Wind Blows, Matěj Chlupáček's We Have Never Been Modern and Tomáš Klein's A Sensitive Person, while Behrooz Karamizade's Empty Nets makes its international premiere.
The Crystal Globe jury this year's includes US actor Patricia Clarkson and Irish actor Barry Ward, Tunisian producer Dora Bouchoucha, Sundance senior programmer John Nein and Slovak director Olmo Omerzu.
Proxima returns
Karlovy Vary's Proxima competition returns for its second year, having replaced the long-running East of the West competition. Open to features from around the world, it is billed as a section for bold works by young filmmakers and experienced auteurs. This year's selection includes films by Swiss auteur Thomas Imbach, Poland's Olga Chajdas, Cyprus-born Kyros Papavassiliou, French filmmaker Émilie Brisavoine and Romanian documentarist Alexandru Solomon.
UK director Naqqash Khalid, a Screen Star of Tomorrow in 2020, comes with his feature debut In Camera, about an aspiring actor who - after a series of bizarre and humiliating auditions - makes a radical move to find a role he wants to play.
The Proxima section comprises 10 world premieres and two international premieres, of which nine are fiction features and three are documentaries. The Proxima jury includes Dutch film critic Dana Linssen, Lithuanian producer Marija Razgutė, Czech director Šimon Šafránek, Berlinale Forum head Barbara Wurm, and Rediance founder Meng Xie.
In its Special Screenings strand, KVIFF has five fiction features and three documentaries including French documentary filmmaker Jean-Gabriel Périot's Facing Darkness and the Sundance-awarded Slow by Marija Kavtaradze, which will be shown for the first time in Europe at the festival.
KVIFF artistic director Karel Och said: "It has been an incredible adventure for the programming team to get acquainted with this year's state of the arthouse cinema via almost 2,000 submissions. We are proud of the selection and simply cannot wait to share it with the audience."
The complete programme – including the Horizons, Imagina, Out of the Past and Midnight Screenings sections – will be announced on June 15 and is set to contain around 170 films.
Karlovy Vary 2023 line-up
Crystal Globe Competition
Red Rooms (Can)
Dir: Pascal Plante
The Girls Are Alright (Sp)
Dir: Itsaso Arana
A Sensitive Person (Cz Rep-Slovak Rep)
Dir: Tomáš Klein
Dancing on the Edge of a Volcano (Leb-Ger)
Dir: Cyril Aris
Fremont (US)
Dir: Babak Jalali
The Hypnosis (Swe-Nor-Fr)
Dir: Ernst De Geer
Where The Wind Blows (It)
Dir: Marco Righi
Citizen Saint (Georgia-Fr-Bulg)
Dir: Tinatin Kajrishvili
Empty Nets (Ger-Iran)
Dir: Behrooz Karamizade
Blaga's Lessons (Bulg-Ger)
Dir: Stephan Komandarev
We Have Never Been Modern (Cz Rep-Slovak Rep)
Dir: Matěj Chlupáček
Proxima Competition
Arsenie. An Amazing Afterlife (Rom-Lux)
Dir: Alexandru Solomon
Birth (S Kor)
Dir: Ji-young Yoo
Brutal Heat (Cz Rep-Slovak Rep)
Dir: Albert Hospodářský
The Song of the Auricanturi (Col-Arg)
Dir: Camila Rodríguez Triana
Embryo Larva Butterfly (Cyp-Gre)
Dir: Kyros Papavassiliou
The Lost Children (Bel)
Dir: Michèle Jacob
Guras (Ind-Nep)
Dir: Saurav Rai
Imago (Pol-Neth-Cz Rep)
Dir: Olga Chajdas
In Camera (UK)
Dir: Naqqash Khalid
Dark Matter (Iran)
Dir: Karim Lakzadeh
Keeping Mum (Fr)
Dir: Emilie Brisavoine
Say God Bye (Switz)
Dir: Thomas Imbach
Special Screenings
Restore Point (Cz Rep-Slovak Rep-Pol-Serb)
Dir: Robert Hloz
Facing Darkness
Dir: Jean-Gabriel Périot
Smiling Georgia (Georgia-Ger)
Dir: Luka Beradze
Snake Gas (Czech Rep-Slovak Rep-Rom)
Dir: David Jařab
She Came at Night (Czech Rep)
Dirs: Tomáš Pavlíček, Jan Vejnar
Temporaries (Can-Fr)
Dir: Pier-Philippe Chevigny
Slow / Slow / Slow (Lith-Sp-Swe)
Dir: Marija Kavtaradze
All Men Become Brothers (Slovak Rep-Czech Rep)
Dir: Robert Kirchhoff