Aki Kaurismäki, Oren Moverman, Agnieszka Holland, Sally Potter among Competition lineup.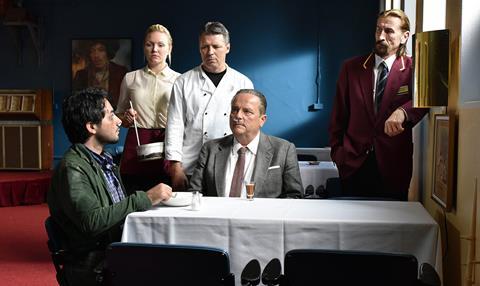 The first 14 films have been announced for the Competition and Berlinale Special sections of the 67th Berlin International Film Festival.
Among directors with movies in competition are Aki Kaurismäki, Oren Moverman, Agnieszka Holland, Andres Veiel, Sebastián Lelio and Sally Potter.
Festival veteran Kaurismäki will debut new film The Other Side Of Hope about a Finnish travelling salesman who meets a Syrian refugee.
Moverman's (The Messenger) mystery-drama The Dinner stars Richard Gere, Laura Linney, Steve Coogan, Rebecca Hall and Chloë Sevigny. Based on the novel by Herman Koch, the film looks at at how far parents will go to protect their children.
Oscar-nominated Holland, who was nominated for the Golden Bear in 1981, will be at the Berlinale with crime-drama Pokot.
Potter returns to Berlin with ensemble comedy-drama The Party starring Patricia Clarkson, Bruno Ganz, Cherry Jones, Emily Mortimer, Cillian Murphy, Kristin Scott Thomas and Timothy Spall.
Sebastián Lelio, who won the Berlin Competition's jury prize in 2013 for Gloria, will be at the Berlinale with Spanish-langauge drama A Fantastic Woman.
All movies announced in Competition are world premieres other than Kaurismäki's which will play in Finland ahead of its Berlin berth.
Fernando Trueba's comedy-drama The Queen Of Spain, starring Penelope Cruz, will get its international premiere in the Berlinale Special strand. The move charts the misadventures of a Spanish crew during the filming of an American movie in 1950's Spain.
Competition
A teströl és a lélekröl (On Body and Soul) (Hungary)
dir. Ildiko Enyedi
Starring Géza Morcsányi, Alexandra Borbély, Zoltán Schneider
World premiere
Ana, mon amour (Romania / Germany / France)
dir. Călin Peter Netzer
Starring Mircea Postelnicu, Diana Cavallioti, Carmen Tănase, Adrian Titieni, Vlad Ivanov
World premiere
Beuys - Documentary (Germany)
dir. Andres Veiel
World premiere
Colo (Portugal / France)
dir. Teresa Villaverde
Starring João Pedro Vaz, Alice Albergaria Borges, Beatriz Batarda, Clara Jost
World premiere
The Dinner (USA)
dir. Oren Moverman
Starring Richard Gere, Laura Linney, Steve Coogan, Rebecca Hall, Chloë Sevigny
World premiere
Félicité (France / Senegal / Belgium / Germany / Lebanon)
dir. Alain Gomis
Starring Véro Tshanda Beya, Gaetan Claudia, Papi Mpaka
World premiere
The Party (United Kingdom)
dir. Sally Potter
Starring Patricia Clarkson, Bruno Ganz, Cherry Jones, Emily Mortimer, Cillian Murphy, Kristin Scott Thomas, Timothy Spall
World premiere
Pokot (Spoor) (Poland / Germany / Czech Republic / Sweden / Slovak Republic)
dir. Agnieszka Holland
Starring Agnieszka Mandat, Wiktor Zborowski, Miroslav Krobot, Jakub Gierszał, Patricia Volny, Borys Szyc
World premiere
Toivon tuolla puolen (The Other Side of Hope) (Finland)
dir. Aki Kaurismäki
Starring Sakari Kuosmanen, Sherwan Haji
International premiere
Una Mujer Fantástica (Chile / Germany / USA / Spain)
dir. Sebastián Lelio
Starring Daniela Vega, Francisco Reyes, Luis Gnecco, Aline Küppenheim, Amparo Noguera
World premiere
Berlinale Special
Berlinale Special Gala at the Friedrichstadt-Palast
La Reina de España (The Queen of Spain) (Spain)
By Fernando Trueba
Starring Penélope Cruz, Antonio Resines, Chino Darín, Cary Elwes, Mandy Patinkin, Neus Asensi, Ana Belén
International premiere
Le jeune Karl Marx (The Young Karl Marx) (France / Germany / Belgium)
dir. Raoul Peck
Starring August Diehl, Stefan Konarske, Vicky Krieps, Hannah Steele, Olivier Gourmet
World premiere
Últimos días en La Habana (Last Days in Havana) (Cuba / Spain)
dir. Fernando Pérez
Starring Jorge Martínez, Patricio Wood, Gabriela Ramos
European premiere
Berlinale Special at the Volksbühne
Acht Stunden sind kein Tag (Eight Hours Don't Make a Day)
Federal Republic of Germany 1972 – TV series with 5 episodes
dir. Rainer Werner Fassbinder
Starring Hanna Schygulla, Gottfried John, Luise Ullrich, Werner Finck, Irm Hermann
World premiere of the restored version