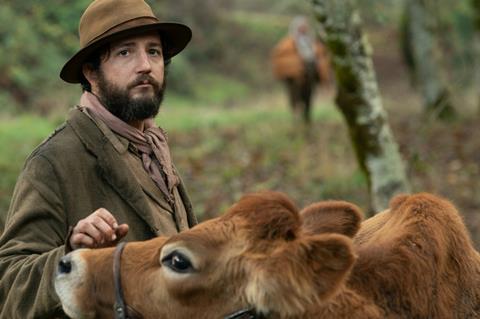 Kelly Reichardt's First Cow will open this year's Locarno Film Festival, which will run as a hybrid edition from August 5-15.
First Cow premiered at Telluride in 2019 and was also in competition at the Berlinale. Starring John Magaro, Orion Lee, Toby Jones and Ewen Bremner, it was released by A24 in the US in March, before switching to VoD. The film will be screened at Locarno's GranRex theater with the director attending live online.
The festival will close with Jean-Marie Straub's short La France Contre Les Robots, alongside a selection of nine other short films from the project Collection Lockdown by Swiss Filmmakers. Straub was awarded with the festival's Leopard of Honor award in 2017.
Reichardt will also be one of the three jurors judging the international projects in the festival's Films After Tomorrow section. She is joined by Israeli writer/director Nadav Lapid, whose Synonyms won the Berlinale Golden Bear last year, and Lesotho screenwriter, director and cinematographer Lemohang Jeremiah Mosese, a Sundance 2019 prize winner for This Is Not A Burial, It's A Resurrection.
The Films After Tomorrow initiative, divided into 10 international and 10 Swiss projects, has been created to support feature films that have stalled at various stages of production due to the Covid-19 pandemic. The line-up features a mix of established and emerging talent, including Argentinian director Lucrecia Martel, Portuguese filmmaker Miguel Gomes, the Philippines's Lav Diaz, who won the Golden Leopard in 2014 for From What Is Before, and China's Wang Bing.
The jury for the Swiss section includes Swiss director Alina Marazzi (winner of a jury special mention at Locarno 2002 for Un'ora Sola Ti Vorrei), Argentinian director, writer and artist Matías Piñeiro (Hermia & Helena) and Iranian filmmaker Mohsen Makhmalbaf, whose 1996 Locarno title A Moment Of Innocence is one of the titles in this year's Journey through Festival History classic titles strand.
Both sections are eligible for two Pardo 2020 awards worth $73,000, with the international jury also handing out the Campari Award ($54,000) and Swatch Award ($32,000). State Swiss broadcaster is contributing the SRG SSR Award for one of the Swiss projects, guaranteeing publicity on channels worth $124,000.
This year's festival will unfold mainly online under the banner of 'Locarno 2020 – For the Future of Films', with a compact programme of physical theatrical screenings in Locarno and Muralto taking place alongside digital events.