Summer 1993 and My Happy Family also take home prizes from Ukrainian festival.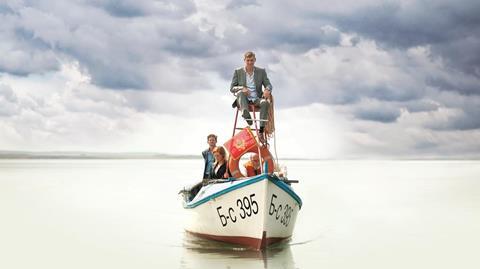 Peter Brosen and Jessica Woodworth's fourth feature King Of The Belgians received the Golden Duke Grand Prix - based on voting by festival-goers - at the eighth Odesa International Film Festival (OIFF, July 14 - 22), which came to a close on Saturday evening.
The International Competition jury, headed up by German director Christian Petzold and including actress Sibel Kekilli and Romanian producer-director-festival organiser Tudor Giurgiu, awarded the prize for best international feature film to Catalan director Carla Simón's autobiographical film Summer 1993.
Handled internationally by New Europe Film Sales, Simón's film had its world premiere in the Berlinale's Generation Kplus sidebar where it won the international jury's grand prix and the GWFF best first feature award.
Meanwhile, My Happy Family by the directorial duo Nana & Simon continued its successful international festival career by picking up the jury's awards for best director as well as best acting for stars Ia Shugashvili and Tsisia Qumsashvili.
A special mention was made of Chinese filmmaker Jun Geng's Free And Easy.
Local winners
The National Competition's jury, including Cannes Critics' Week head Charles Tesson and actor Aidan Turner, presented the Golden Duke for best Ukrainian feature to Roman Bondarchuk's documentary Dixie Land which follows a children's jazz band in the Kherson Oblast over the period of seven years, and the Duke for best Ukrainian Short to Pavlo Ostrikov's Graduation '97, with special mentions for Arkadii Nepytaliuk's The Strayed and Kateryna Gornostai's Lilac.
In addition, the European Documentary Competition jury awarded its Golden Duke to Sergey Bukovsky's The Leading Role, about the director's complex relationship with his actress mother Nina Antonova, while the FIPRESCI jury named Valentyn Vasyanovych's Black Level as best Ukrainian feature and Gornostai's Lilac as Best Ukrainian Short.
The gala ceremony in the Black Sea city's Opera House, which was attended by Ukraine's vice prime minister Pavlo Rozenko, minister of culture Evgeny Nischuk and the State Film Agency director Philip Ilienko, also saw Golden Dukes for lifetime achievement being presented to veteran Polish director Agnieszka Holland and French actress Isabelle Huppert.
Industry programme awards
Odesa's industry programme, the Film Industry Office, which was again held on the lot of the Odesa Film Studios, offered three new innovations in addition to the pitching and work in progress showcases.
Representatives of film institutes and production companies from the three Baltic states – Lithuania, Estonia and Latvia – came to Odesa for a Baltic Focus to outline the opportunitiies for co-production and financing.
Moreover, the film festival teamed up with the screenwriter training programme ScripTeast and the Ukrainian production house Star Media to launch a new pitching platform, ScripTeast Series Projects, to present five Eastern European TV drama projects to an international expert jury including Frederic Lavigne (Series Mania), Brigitta Manthey (Medienboard Berlin-Brandenburg) and Thomas Coan (NBC Universal).
And casting director Nancy Bishop, agent Richard Cook and actors Shani Klein and Ivan Shvedoff served as tutors for an intensive actor's workshop for 14 up-and-coming acting talents.
The projects selected for the TV drama platform included the Hungarian series Fata Morgana which had originally been devised as a feature film, but has now attracted filmmaker Gyorgy Palfi as the director of the 10-part series; and Bulgaria's New Gypsies which screenwriters Teodora Markova and Georgi Ivanov said has attracted interest from German broadcaster ZDF and Constantin Television.
The prize of post-production services worth $10,000 offered by Star Media went to the Croatian showrunners Dorotea Vucic and Visna Mamic for the mystery thriller Accursed Mountains.
Pitching and Work in Progress
An international jury of producers Marek Rozenbaum, Rebekka Garrido, Karsten Stöter and Guillaume de Seille as well as Les Arcs general manager Guillaume Calop, CineLink's Amra Baksic Camo and CineMart's Marit van den Elshout, heard presentations of 11 new feature film projects, including Zaza Urushadze (Anton), Volodmyr Tykhyy (Wild Horses), Victoria Trofimenko (Yakiv) and Benedikt Erlingsson (A Woman At War).
After consulting with OIFF's general producer Julia Sinkevych, the jury decided to split its prize of $2,300 (60,000 UAH) from the investment and development company UDP between two projects. "We were divided and not divided in the jury. We were unanimous in our division", van den Elshout revealed at the Film Industry Office awards ceremony.
Consequently, this year's Best Pitch prize was shared between Antonio Lukich's tragicomedy My Thoughts Are Silent and Kateryna Gornostai's drama The Floor Is Lava.
However, the work in progress jury of sales agents Keiko Funato (Alpha Violet), Marie-Pierre Valle (Wild Bunch), Ewa Bojanowska (New Europe Film Sales) and Laurent Danielou (Loco Films), and producer-distributor Heino Deckert was unanimous in its decision of awarding its prize of $2,000 worth of flights with Ukrainian International Airlines to producer Olena Yershova and Roman Bondarchuk for his fiction feature debut Volcano.
Bondarchuk – whose project has been pitched at a previous edition of Odesa's Film Industry Office – beat off competition from other films in production such as Marysia Nikitiuk's coming of age drama When The Trees Fall (being handled internationally by Latido Films) and Alisa Kovalenko's Ukrainian-French documentary Home Games which won the best pitch award in Odesa last year.