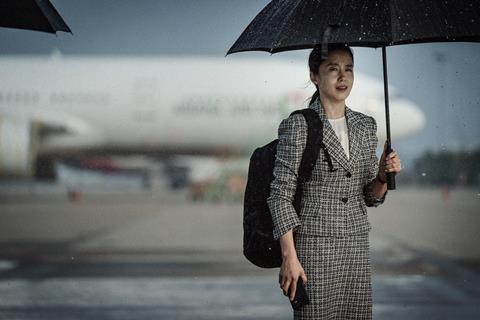 South Korea's film industry is bracing for a box office downturn as another Covid-19 surge has the government set to tighten social distancing rules back up from Saturday, December 18.
Cinema screenings will have to end before 22.00 and local theatres have already rearranged this coming weekend's timetables and are making refunds for cancelled reservations.
Spider-Man: No Way Home, which Sony Pictures opened Wednesday to 635,000 admissions, set a record for biggest opening day since the pandemic began. But the superhero film is expected to be hit by the effects of the new surge and renewed restrictions.
The same goes for Warner Bros. Korea's The Matrix Resurrections and Walt Disney Company Korea's The King's Man, both set to open Wednesday, December 22.
Local flms
Big-budget local films that had set their sights on peak winter season releases are now postponing their dates. Megabox Plus M announced today it is pushing back the release of political drama Kingmaker from December 29 to the Lunar New Year's holiday in January 2022. The three-day national holiday falls January 31-February 2, starting right after the weekend.
Showbox announced Wednesday it is postponing the January release of disaster thriller Emergency Declaration to a later, unnamed date. Boasting a raft of A-list stars such as Song Kang-ho (Parasite) and Lee Byung-hun (Squid Game), the film – about what happens on a plane and on the ground when bioterrorists unleash a deadly virus – made its world premiere out of Competition at Cannes earlier this year.
On Thursday, industry organisations including the Producers' Guild of Korea (PGK), Directors' Guild of Korea (DGK), Association of Korean Buyers & Distributors of Foreign Films (KBDF) and the Korea Theater Association called on the government to allow exemptions for cinemas, citing the stringent hygiene and social distancing guidelines already in place.
The local film industry, traditionally highly dependent on theatrical returns, has been badly hit in the prolonged pandemic. Last year saw the country's number of total admissions plummet by 73.7% to 59.5 million, the lowest since Kofic started tracking data on its Korea Box-office Information System (Kobis) in 2004. To date, Kobis reports 54.7 million admissions this year.
Measures reintroduced
Less than two months after opening up "living with Covid-19" initiatives, the government is rolling them back to include business-hour curfews on cafes, restaurants and other multi-use facilities, as well as cinemas.
According to the South Korea's central disease control headquarters, the past seven-day average for Covid-19 cases in the country is at 6,850 with 65 deaths. The total number of infections since January 2020 is at 551,551 with 4,591 deaths in a population of roughly 51 million.