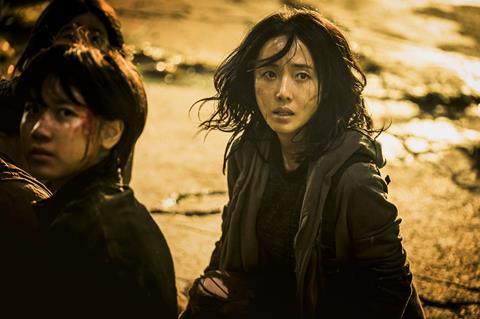 South Korea's local film industry has reported a depressed pandemic scene in 2020, lifted only by a rise in international sales.
According to the Korean Film Council (KOFIC), overseas sales for Korean films, locations and services rose 13.3% last year to $83.6m. This is despite the majority of film markets going online and a decrease in new films available for pre-sales deals.
Export of completed films – including to global OTT platforms – rose 43% to $54.2m, while income from foreign productions shooting on location in Korea rose 17.1% to $19.7m.
Export of technical services alone, such as VFX and equipment sales, plummeted nearly 50% to $9.8m year-on-year.
Taiwan accounted for $7.9m in export of completed Korean films, making it the biggest buyer for the third consecutive year. It was followed by Japan with $3.8m, China with $2.4m and Hong Kong with $1.5m.
Box-office breakdown
As expected, admissions were down 73.7% last year, dropping to 59.5 million tickets sold – the lowest since KOFIC started its Korea Box-office Information System (KOBIS) in 2004.
Box-office sales went down to the lowest since 2005 to KW510.4bn ($459.2m), 73.3% down compared to 2019.
Local films' market share went up 17% to 68%, maintaining a 10-year streak of taking the majority of admissions compared to foreign films.
South Koreans went to the cinema 1.15 times per capita last year, down 3.22 times on 2019.
Of distributors, CJ ENM led with 17.6% of the market, followed by Lotte Cultureworks which took 14.9%.
With release dates postponed due to the impact of Covid-19, traditional release strategies have become moot, but admissions are still highest on Saturdays (22.9%), followed by Sundays (20.8%) and Wednesdays (14.2%).
Genre-wise, action films lost their top spot from 2019 to drama, which took 32% last year, followed by action (16.7%) and comedy (14.4%).
Female filmmakers
Of 165 commercial films with budgets of more than KW3bn ($2.7m), 21.5% had female directors, 24% had female executive producers, 25.6% had female producers and 42% had female leads. A total of 25.9% had female scriptwriters and 8.8% had female cinematographers.
Of South Korea's top 30 films at the box office, 15 passed the Bechdel test measuring representation of women in fiction including Peninsula, Pawn and Samjin Company English Class.
With theatrical receipts down, non-theatrical sales accounted for 42.9% of total profits for films, jumping from 20.3% in 2019.
But non-theatrical sales also shrunk 11.4% to KW451.4bn ($406.3m), which KOFIC attributes to the effect of having big-budget releases postponed at the box office.
Meanwhile, the country's three major multiplex chains – CJ CGV, Megabox and Lotte Cinema – have agreed to continue their February support scheme for new releases into March, paying distributors an extra KW1,000 ($0.90) per ticket sold for new films released in directly-operated cinemas.
The scheme no longer includes indirectly-run sites which are paying about half that this month.