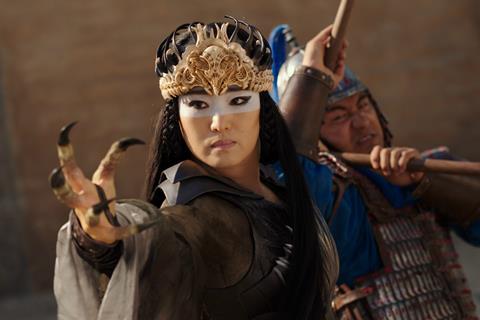 South Korea's recent spike in Covid-19 cases has led to distributors pushing back the release dates of films such as the much-anticipated sci-fi adventure Space Sweepers, starring Song Joong-ki and Kim Tae-ri; Disney's live-action Mulan; and Marvel superhero film The New Mutants.
Local distributor Merry Christmas and production company Bidangil Pictures announced that Space Sweepers, directed by Jo Sung-hee, has been "temporarily" postponed from its originally scheduled date of September 23. They did not give a new date but expressed hope for improvement in the Covid-19 situation.
The Walt Disney Company Korea has pushed back the release of Mulan from September 10 to September 17 and The New Mutants from September 3 to September 10.
Opus Pictures also announced yesterday that the release of period action film The Swordsman, starring Jang Hyuk, has been pushed back from September 17 to September 23.
Local horror thriller animation Beauty Water, which was invited to festivals including Annecy and Fantasia, was originally set for a September 2 release, but has also been postponed to later in the month, without setting a firm date.
Showbox comedy action film The Golden Holiday, starring Kwak Do-won, postponed its August 19 release three days before the date with further notice pending.
As of midnight last night, South Korea had an accumulated 19,077 confirmed cases of Covid-19 and 316 deaths since January 3, among which 371 cases were added in the past 24 hours, according to the country's Central Disaster Management Headquarters and Central Disease Control Headquarters.
Although the country has had relative success is containing cluster outbreaks, the recent spike in numbers above 200 cases per day has led the government to advise more stringent social distancing measures and considerations per moving from Stage 2 to Stage 3 (complete lockdown). Yesterday saw a nearly six-month high of 441 new cases in a day.
South Korean box office started coming out of a months-long slump in July with the release of local films such as Yeon Sang-ho's zombie thriller Peninsula but is now looking at a slow-down.
Christopher Nolan's Tenet – for which Warner Bros Korea held controversial early paid-for previews on the weekend, picking up 84,708 admissions – officially opened Wednesday (August 26) to 137,744 admissions. This dropped to 78,974 on its second day.
In comparison, CJ ENM's local crime action film Deliver Us From Evil, starring Hwang Jung-min and Lee Jung-jae, clocked up 344,911 admissions on its first day, Wednesday, August 5, with a drop to 285,470 on its second day.
The films have so far accumulated $2.14m and $31.39m, respectively. All figures are according to the Korea Box-office Information System (KOBIS), run by the Korean Film Council (KOFIC).