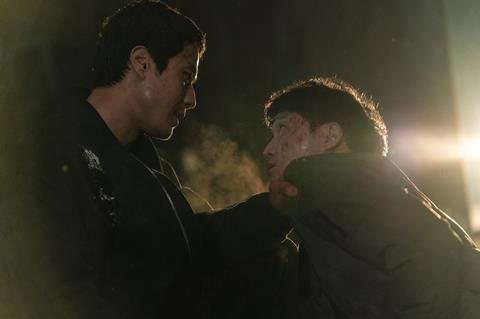 South Korean financier, producer and distributor Acemaker movieworks is launching its own sales unit at the Cannes virtual market.
Headed by former M-Line Distribution executive Jamie Seo, the company's international business team is selling films including the directorial debut of leading Korean actor Jung Woo-sung, Protector (working title). The kidnap revenge thriller, which stars Jung with Kim Nam-gil and Park Sung-woong, is currently in production.
Acemaker also has Kim Tae-yong's sci-fi drama Wonderland (working title) in production. Set in a world where people can meet AI versions of their deceased loved ones in virtual reality, the film has cast Parasite's Choi Woo-shik, Tang Wei from Lust, Caution, Train To Busan's Jung Yu-mi and Gong Yoo, as well as Park Bo-gum (TV's Reply 1988) and K-pop star Bae Suzy.
At the online Marche, the company will be focusing sales efforts on Dirty Money (working title), from debut director Kim Min-soo and starring Jung Woo and Kim Dae-myeong as two detectives forced to go on the run from a Chinese gang, and New Year Blues (working title), directed by Hong Ji-young (Marriage Blue) and starring Kim Kang-woo, Yoo In-na, Yoo Yeon-suk, Lee Yeon-hee, Yoo Teo, Choi Soo-young, Lee Dong-hwi and Chen Du-ling in an ensemble romantic comedy that unfolds on New Year's Eve.
Acemaker movieworks started out two years ago and is headed up by former Showbox production director Helen Jung, whose credits include A Taxi Driver, The Prison, Tunnel and A Hard Day. "The times are changing rapidly but we still believe in the strength and influence of theatrical features," the CEO tells Screen.
"Understanding and respect for creators is at the foundation of our company. Like our name, Acemaker, we try to support creators inside and outside of their films and make them aces. We avoid selections that are tied to genre or convention but beyond our own tastes, we try to choose films that will give the general public proper enjoyment," she says.
The company decided to invest in and distribute actor Jung Woo-sung's directorial debut based on the script, bringing in other investors and funds to build the $6.8m budget. "I thought the refreshing action and the desperate sensibilities of a father trying to save his daughter were well mixed, like in Taken," says Jung.
Acemaker movieworks have so far backed, produced and/or distributed films such as The Gangster, The Cop, The Devil (2019), which starred Don Lee and sold to Sylvester Stallone's Balboa Productions for an English-language remake, and Intruder, one of the first films to go ahead with a theatrical release after the pandemic.
The $3.5m mystery thriller, which stars Song Ji-hyo and Kim Moo-yul and follows a man who undergoes hypnosis to find his wife's killer and instead encounters his long-lost sister, opened on June 4 and has clocked up $3.8m to date, according to the Korean Film Council (KOFIC).
"Whether we like it or not, the pandemic has swept upon our daily lives but we can't just wait around blaming the situation," says Jung.
"Since May, the spread of the novel coronavirus in South Korea started to get under control and the government suggested several different programmes to support the film industry including providing cinema ticket discount coupons that gave us strength," she continues. "In June, we released Intruder and Me And Me one after the other. Fortunately, cinema admissions numbers are slowing rising again in Korea."
The directorial debut of veteran actor Jung Jin-young, Me And Me opened on June 18, topping the Korean box office chart and so far clocking up $797,000 according to KOFIC.
Up to now, Acemaker have been consigning their films for international sales to companies such as Contents Panda and Finecut, which will continue to handle some Acemaker titles at this market including Intruder, Me And Me and crime thriller Voice Of Silence.