Titles on its debut slate include Wojciech Kasperski's award-winning Icon [pictured].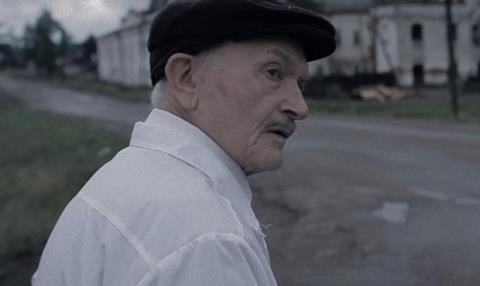 Poland's Krakow Film Foundation has launched a new sales and promotional outfit dedicated to Polish documentaries, called KFF Sales & Promotion (KFF S&P).
The KFF S&P team — consisting of Barbara Orlicz-Szczypula, Katarzyna Wilk and Magda Ludwig — makes its first outing at this week's DOK Leipzig International Festival for Documentary and Animated Film (Oct 31 - Nov 6) where it is representing more than a dozen titles.
Its first line-up includes Przemyslaw Kaminski's directorial debut The Gift about a miracle worker who can walk barefoot on hot embers, hypnotise people and help heavy smokers cough up tar. It premiered at the Krakow Film Festival (KFF) last May.
Other titles include Wojciech Kasperski's Icon, capturing the lives of patients in a remote Siberian psychiatric hospital and featuring cinematography by Lukas Zal (Life Of A Butterfly).
The work clinched five awards at KFF, including the FIPRESCI Prize and Polish Society of Cinematographers Award, and is also set to screen at the upcoming editions of Camerimage, IDFA and Russia's Artdoc Fest.
Also drawn from KFF's 2016 documentary competition programme is Magdalena Gubala and Szymon Uliasz's The Internal Ear, about iconic Polish jazz scene figure, the saxophonist, bass clarinet player, harmonica player and composer Mikolaj Trzaska.
Other titles on the KFF S&P slate include Marcin Kopec's Walking Spark about a former member of the Warsaw mafia trying to live life on the straight and narrow after being released from prison.
DOK Market titles
The new outfit is also selling another 11 titles screening at Leipzig's DOK Market, including Anna Zamecka's Locarno prize-winner Communion, Julia Staniszewska's directorial debut Three Conversations On Life, which in competition at DOK Leipzig, and Piotr Stasik's 21 x New York, an intimate portrait of the city and its people produced by Lava Films.
Courgette opens DOK Leipzig
The 59th edition of DOK Leipzig and the second year under the artistic direction of Leena Pasanen opens on Monday evening with Claude Barras' My Life As A Courgette, which is Switzerland's entry for the Foreign Language Feature Film Academy Award.
This is the first time in the festival's history that a feature-length animation film has been selected to open the festival programme.
A record 2,900 films from 133 countries were submitted this year, 300 more than in 2015, with 179 films and six interactive works making it to the Official Selection.
Around 100 titles will world or international premieres in Leipzig this week, another record for the event.
This year's DOK Co-Pro Market features 36 projects from countries as far afield as Brazil, Taiwan, Japan, Ukraine, Germany and the UK.
The festival's DOK Industry programme will also launch a new initiative, DOK EXCHANGE, aimed at connecting interactive, animation and professionals attending the festival.
The one-day conference on Nov 3 will include presentations on new forms of storytelling, production and distribution by international players such as as Aardman Studios' David Sproxton, Mike Robbins of Canada's Helios Design Lab, and UK producer Nicole Smith of Influence Film.