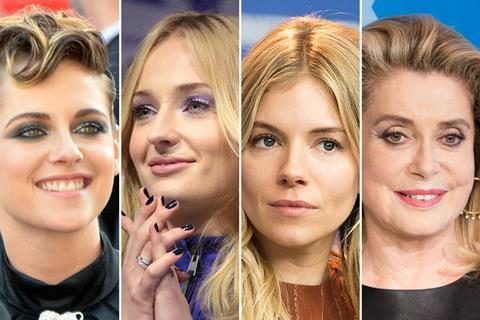 The Deauville American Festival has unveiled a female-focused programme spotlighting women behind and in front of the camera for its 45th edition.
The festival, unfolding in the luxury northern French resort of Deauville Sept 6-15, courted controversy earlier in the week when it announced it was opening with Woody Allen's A Rainy Day in New York.
It will be the feature's biggest festival screening after backers Amazon cancelled its release after its 2017 shoot when molestation allegations by the director's adopted daughter Dylan Farrow resurfaced amid the rise of the Time's Up movement.
Festival director Bruno Barde batted back criticism of the selection, highlighting that Allen had been cleared by American justice in two different states of the charges.
Wider programme
Deauville's wider 45th programme, meanwhile, puts the accent on female talent, especially in the competition, featuring 14 recent US productions, many of them first time features seeking French theatrical distribution.
Six of the competition films are directed by women including Danielle Lessovitz's transgender drama Port Authority, Anne Silverstein's coming of age tale Bull, set against the South Texas rodeo scene, and Jennifer Reeder's high school thriller Knives And Skin.
Most of Deauville's honorary guests are also women. Kristen Stewart, Sienna Miller, Geena Davis will be feted with its Deauville Talent Award. Previous recipients include Robert Pattinson, Sarah Jessica Parker and Kate Beckinsale.
A selection of films starring actresses will screen across the festival including Jeremiah Terminator LeRoy and Seberg for Stewart, American Woman for Miller and Hollywood gender inequality documentary This Changes Everything for Davis.
UK Game Of Thrones star Sophie Turner will receive the Hollywood Rising Star award. She follows in the footsteps of Daniel Radcliff and Elle Fanning. Festival selections featuring Turner include Jouri Smit's revenge thriller Heavy set against the backdrop of the high-end drug dealing scene as well as all the episodes of the 10th season of Game Of Thrones.
Other high profile guests include cinema icon Catherine Deneuve who will preside over a competition jury which includes directors Antonin Baudry, Claire Burger and actors Valeria Golino, Vicky Krieps and Gaspard Ulliel.
Allen's A Rainy Day In New York will screen in Deauville's Premieres section, focused on more mainstream films. Other titles in that line-up also Terrence Malick's A Hidden Life, and Oliver Assayas's The Wasp Network, which closes the 45th edition.
COMPETITION
Bull
Dir. Annie Silverstein, first feature
Ham On Rye
Dir. Tyler Taormina, first feature
Judy And Punch
Dir. Mirrah Foulkes, first feature
Knives And Skin
Dir. Jennifer Reeder, first feature
Mickey And The Bear
Dir. Annabelle Attanasio, first feature
Port Authority
Dir. Danielle Lessovitz, first feature
Share
Dir. Pippa Bianco, first feature
Skin
Dir. Guy Nattiv
Swallow
Dir. Carlo Mirabella Davis, first feature
The Climb
Dir. Michael Angelo Covino, first feature
The Lighthouse
Dir. Robert Eggers
The Peanut Butter Falcon
Dir. Tyler Nilson and Michael Schwartz, first feature
The Wolf Hour
Dir. Alistair Banks Griffin
Watch List
Dir. Ben Rekhi
PREMIERES
American Woman
Dir. Jake Scott
Angry Birds Movie 2
Dir. Thurop Van Orman
Charlie Says
Dir. Mary Harron
Greener Grass
Dir. Jocelyn DeBoer and Dawn Luebbe
Heavy
Dir. Jouri Smit first feature
Jeremiah Terminator LeRoy
Dir. Justin Kelly
Music Of My Life
Dir. Gurinder Chadha
Seberg
Dir. Benedict Andrews
Terre Maudite
Dir. Emma Tammi, first feature
The Hummingbird Project
Dir. Kim Nguyen
A Rainy Day In New York
Dir. Woody Allen, opening film
A Hidden Life
Dir. Terrence Malick
Waiting For The Barbarians
Dir. Ciro Guerra
Wasp Network
Dir. Olivier Assayas, closing film
THE DOCS OF UNCLE SAM
5B
Dir. Paul Haggis and Dan Krauss
Apollo 11
Dir. Todd Douglas Miller
Making Waves: The Art Of Cinematic Sound
Dir. Midge Costin, first feature
Memory – The Origins Of Alien
Dir. Alexandre O. Philippe
Miles Davis: Birth Of The Cool
Dir Stanley Nelson
This Changes Everything
Dir. Tom Donahue
The Biggest Little Farm
Dir. John Chester