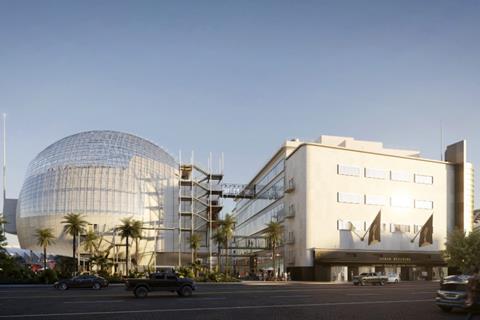 An unspecified donation from Laika has pushed the Academy Museum past its $388m fundraising goal, Academy Museum director and president Bill Kramer said on Friday (November 13).
The campaign, which launched in 2012 and is headed by chair Bob Iger and co-chairs Annette Bening and Tom Hanks, experienced difficulties in raising the money and its opening date had been postponed several times. It is now set to open on April 30, 2021.
To date the campaign has received more than 13,000 donations from individuals, corporations, foundations, and government entities. Cheryl and Haim Saban made the largest contribution with a $50m gift for which the Saban Building (formerly a May Company department store) was named.
The museum is located in the Fairfax district in mid-town Los Angeles. The six-floor site connects the Saban Building to a large new dome construction featuring the 1,000-seat David Geffen Theater and a rooftop restaurant.
The site feature exhibition spaces, the 288-seat Ted Mann Theater, the Shirley Temple Education Studio, special event spaces, conservation areas, and store.
The newly named Laika Gallery will house special collections and debuts with The Path To Cinema: Highlights From The Richard Balzer Collection showcasing cinema artifacts.
Donors include Dalian Wanda Group, the Hobson/Lucas Family Foundation, Dolby Laboratories/Family of Ray Dolby, The Walt Disney Company, Marilyn and Jeffrey Katzenberg, Steven Spielberg, Shirley Temple Black and Family, East West Bank, Netflix, Participant, and other studios and individuals.