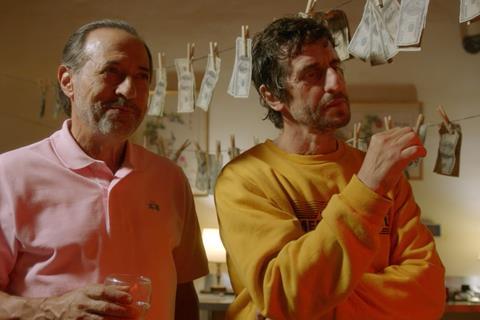 Madrid-based sales outfit Latido Films has scored several key territory deals on Argentinian box office hit The Heist Of The Century (El robo del siglo) after market screenings at this year's EFM.
The based on a true story comedy about a botched bank robbery has gone to France (Eurozoom), Spain (Syldavia), Greece (Rosebud), Switzerland (Trigon) and Australia (Palace). There are also offers on the table from Russia, Italy and China.
Released in Argentina this January, The Heist Of The Century is directed by Ariel Winograd and stars Guillermo Francella (The Secret In Their Eyes, The Clan) and Diego Peretti (Ten Days Without Mom, No Kids).
The Latido Films team, with Antonio Saura at the helm, have reported a busy EFM so far.
Further titles on their slate include A Thief's Daughter, the feature debut for Goya best new director winner Belén Funes, which has been sold to Australia (Palace) with interest also reported from Italy.
Latido's Spanish comedy The Best Summer Of My Life has gone to Whiland for Latin America.
There are offers on the table from Italy and the UK for Agustí Villaronga's Born A King, a drama about the son of the first King of Saudi Arabia, who was sent to England on a diplomatic mission at age of 13 after World War I.
The Spanish sales outfit has also sold the thriller 4x4 to Germany (Venal Virulent) and is in negotiations for distribution in the US. The story of a car thief who messes up with the title's 4X4 and then realises he cannot get out of the vehicle is directed by Mariano Cohn (The Distinguished Citizen). Remake rights are closed with CAA for the US and there are offers on the table for India and Korea.
In an ever-growing market for remakes, Latido Films also has offers on the table from Germany for Javier Fesser's feelgood Spanish comedy Champions, which topped the Spanish box-office in 2018.
Latido is also in negotiations with Italy for the remake rights for The Weasel's Tale, a black comedy directed by Juan José Campanella (The Secret In Their Eyes) about a retired film star who shares her mansion with other veteran colleagues.
There are also remake offers from India and Korea for At The End Of The Tunnel, directed by Rodrigo Grande and starring Leonardo Sbraglia (Pain&Glory) and Clara Lago (The Weasel's Tale).