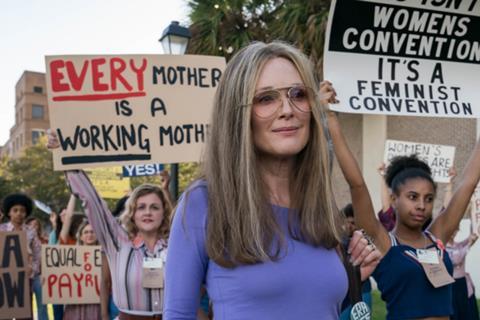 LD Entertainment and Roadside Attractions have acquired North American rights to Julie Taymor's The Glorias following its world premiere at Sundance.
The companies are reuniting after the release of Judy starring Oscar-winner Renée Zellweger and are back in business with another stellar performer playing an iconic role.
Julianne Moore portrays feminist figurehead Gloria Steinem over five decades of her life.
Based on Steinem's book My Life On The Road, The Glorias also stars Alicia Vikander, Lulu Wilson, Ryan Keira Armstrong and Timothy Hutton
The partners plan an autumn release in advance of the 2020 election, along with a national promotional tour with significant support from Steinem. The autumn corridor suggests an awards run.
Taymor and Sarah Ruhl co-wrote the screenplay and Taymor produced with Alex Saks of Page Fifty-Four Productions, and Lynn Hendee. Executive producers include David Kern, Marcei A. Brown, Amy Richards, Jenny Warburg, Sarah Johnson, and Regina Scully.
Endeavor Content represented the filmmakers in the deal.