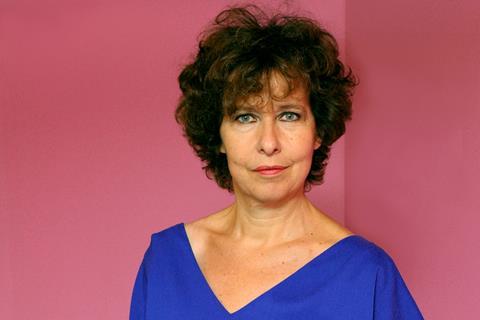 Le Monde De Demain and Chair Tendre were among the winners at Series Mania 2022 as the event in Lille came to a close with accredited on-site attendance for the forum up 22% over 2019 and 57% over 2021.
Series Mania founder and general director Laurence Herszberg (pictured) said the 2022 edition brought together more than 70,000 participants for the festival and 3,300 accredited persons on-site from 64 countries for the Forum compared to 2,100 in 2021 and 2,700 in 2019. The visits to the Series Mania website and Series Mania digital platform produced 260,000 views.
French show Le Monde De Demain created by Katell Quillévéré, Hélier Cisterne, Vincent Poymiro and David Elkaïm took the grand prize in the International Competition where the jury was chaired by Ukrainian producer Julia Sinkevych. The production from Les films du Bélier and Arte France airs on Arte and Netflix.
In the section's other main prizes Michelle De Swarte was named best actress for The Baby (UK) broadcast on HBO and Sky, while Yehuda Levi won best actor for Israeli show Fire Dance, broadcast on Yes TV with Yes Studios handling international sales.
Sweden's The Dark Heart created by Oskar Söderlund and Gustav Möller was named best series in International Panorama and is broadcast on Discovery+ in Sweden with Reinvent International Sales on sales.
The special jury prize went to Maria Von Heland's Sunshine Eyes from Germany produced by Maze Pictures, Red Balloon Film GMBH and Tindra Film, while another German show, Funeral For A Dog created by Hanno Hackfort, Bob Konrad and Thomas Pletzinge, won best series awarded by the student jury. Sky is the broadcaster and Sky Studios/NBCU represented international sales.
In the French Competition it was Chair Tendre created by Yaël Langmann that emerged with best series honours. It airs on France.tv Slash and France TV Distribution handles sales.
The best actress award was shared by Inès Ouchaaou, Charlie Loiselier and Assa Sylla from Reusss (broadcast by France.tv Slash and sold by France TV Distribution. Axel Granberger was named best actor for Les Papillons Noirs created by Bruno Merle and Olivier Abbou. Arte and Netflix are the broadcasters and Mediawan Rights represented sales. Clement Doumic, Antoine Wilson, Sebastien Wolf from the group Feu! Chatterson won best original music for Toutouyoutou.
In other awards Kastina Communications' Bloody Murray from Israel won the best series – high school jury honours in the Night Of Comedies section; Black Camel Pictures' Float (UK) directed by Arabella Page Croft was named best series in Short Formats.
The Audience Prize selected from any title in competition except Short Formats went to The Birth Of Daniel F. Harris (UK) created by Pete Jackson and directed by Alex Winckler and Alexandra Brodoski and broadcast on Channel 4. BBC Studios handles sales.