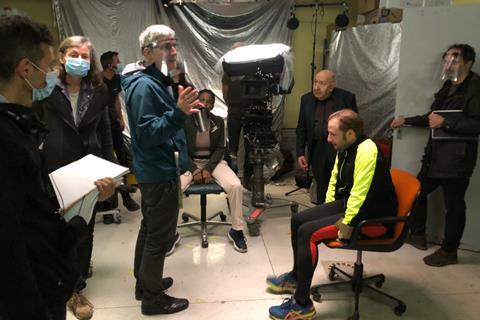 Les Films du Losange has acquired world sales rights for Alain Guiraudie's new comedyViens Je T'Emmène inspired in part by the tense aftermath of the 2015 terror attacks in France.
Rising French actor Jean-Charles Clichet stars as a 30-year-old man who falls in love with a 50-year-old married prostitute, played by Noémie Lvovsky.
The story unfolds in the central French city of Clermont-Ferrand, which is in a heightened state of tension following an imaginary terror attack there on the eve of Christmas.
In a parallel storyline, the protagonist takes in a young homeless man of Arab origin, but finds himself falling prey to all sorts of paranoid thoughts fuelled by the fears of his neighbours.
The film has yet to be given an English-language title. Its French-language title is taken from late French singer France Gall's 1978 single 'Viens, Je T'emmène'. It translates as "Come, I'll Take You".
It is the sixth feature for Guiraudie, who is best known internationally for Staying Vertical and Stranger By The Lake.
Charles Gillibert at CG Cinema, whose other upcoming productions include Leos Carax's Annette and Mia Hansen-Løve's Bergman Island, is lead producing the feature, budgeted at $3.6m (€3.2m).
Franco-German broadcaster Arte and French cinema and high-end TV drama channel OSC are on board as co-producers.
Les Films du Losange is selling internationally and releasing theatrically in France.
The production originally started shooting in Clermont Ferrand on January 28 but was put on hold due to the Covid-19 pandemic and resulting French national lockdown.
Guiraudie and his cast and crew returned to the set on June 8, working with new hygiene protocols which include social distancing, wearing of masks and regular cleaning of equipment.
The production is due to be completed in time for a release in the first half of 2021.