US pact for StudioCanal's 3D family adventure follows recent deal on The Commuter.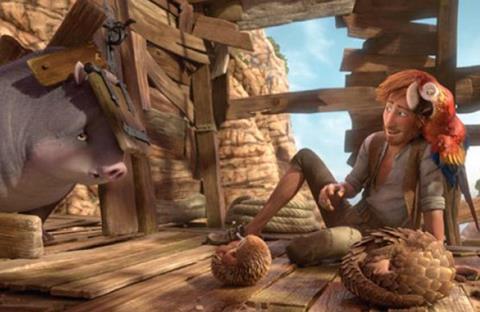 Lionsgate has picked up US rights to 3D family adventure Robinson Crusoe from StudioCanal.
The film will be released wide in the US by Lionsgate's Summit Entertainment label in mid-2016 following StudioCanal's European release.
The animated film brings to life the true story of Robinson Crusoe in 3D as seen through the eyes of his quirky companions, including his parrot Tuesday who dreams of exploring the world.
The film is directed by Ben Stassen and Vincent Kesteloot and produced by nWave Pictures.
The announcement comes on the heels of Lionsgate's acquisition from StudioCanal of US rights to the thrillers The Commuter, starring Liam Neeson, and Our Kind of Traitor, starring Ewan McGregor.
"Robinson Crusoe is a timeless adventure classic that has enthralled families since it was first published and the exceptional quality of Ben and Vincent's 3D animation will help introduce the story to a new generation," said Lionsgate co-COO and Motion Picture Group president Steve Beeks.
"StudioCanal has become an important supplier of high profile, branded event properties for our pipeline, and we're thrilled to continue expanding our relationship with them on a diverse and commercially exciting roster of films."
"Once again, we're very excited by the opportunity to tap Lionsgate's marketing prowess and distribution expertise in the US, and we know that they will be the perfect home for our fresh take on the Robinson Crusoe story," said StudioCanal president of international distribution and marketing Rodolphe Buet.
"Our relationship has continued to grow since we partnered on The Last Exorcism, and we believe that our current line-up of films will resonate with audiences for years to come."
The partnership between Lionsgate and StudioCanal includes Lionsgate's distribution of the StudioCanal library in North America, StudioCanal's distribution of Lionsgate films in Germany and the companies' operation of the Elevation Sales home entertainment joint venture in the UK.