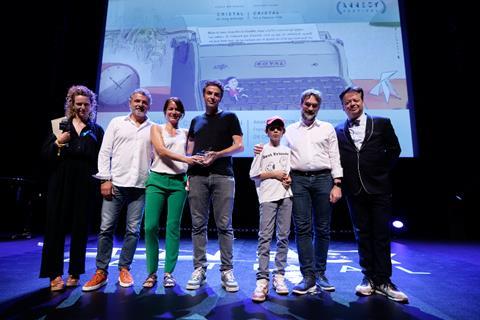 Amandine Fredon and Benjamin Massoubre's French-Luxembourgish 2D animation Little Nicholas – Happy As Can Be won the Cristal for a Feature Film at Annecy International Animation Festival, which held its awards on Saturday, June 18.
Produced by France's Foliascope and Luxembourg's Bidibul Productions, the film follows the adventures of a mischievous boy and his schoolmates, teacher and parents in 1960s Paris.
Scroll down for the full list of winners
The story is by Anne Goscinny, Michel Fessler and Massoubre, with Julien Maret leading the animation. France's Charades is handling world sales, with Bac Films having already taken the film for France.
Foliascope was the big Annecy winner, having also produced Alain Ughetto's clay stop-motion Interdit aux chiens et aux italiens (translation: No Dogs or Italians Allowed), which took home both the jury award and the distribution prize.
The film follows Ughetto's own family history, showing a boy retracing his grandfather's steps across the Alps from Northern Italy to France, where he looks to start a new life and changes his family's destiny. Production companies alongside Foliascope are France's Les Films du Tambour de Soie and Vivement Lundi, Belgium's Lux Fugit Film and Italy's GraffitiDoc; Indie Sales is selling the title.
French films held sway in the main feature films category, with Pierre Foldes' France-Luxembourg-Canada-Netherlands co-production Blind Willow, Sleeping receiving a distinction prize from the jury.
Contrechamp
The main prize in the Contrechamp section went to Koji Yamamura's Plethore de nords, with a jury distinction prize for Jun-pyo Hong's Chun Tae-il: A Flame That Lives On.
UK titles fared best in the VR strand, where Benjamin Cleary and Michael O'Connor's France-Ireland-UK co-production Glimpse won the best VR work prize; and Barry Gene Murphy and May Abdalla's UK-France co-production Goliath: Playing With Reality took a distinction award from the jury.
This year's festival saw a record 13,248 badgeholders – up 8% from the previous peak in 2019 – coming from 106 different countries, also a new benchmark.
With Mexican filmmaker Guillermo del Toro having been a key figure at this year's event, the festival confirmed that Mexico will be the country in focus for 2023, taking over from this year's country Switzerland.
"We promised you fireworks but this week was over and above our expectations!" said Mickael Marin, CEO of festival organiser CITIA during the closing ceremony. "Annecy 2022 is simply a reflection of how important animation film is worldwide: a major art form and an industry with remarkable agility that is constantly developing."
Artistic director Marcel Jean spoke to Screen last week about how the festival plans to maintain its expanded size.
Annecy 2022 winners
Feature Films section
Best feature film – Little Nicholas – Happy As Can Be (Fr-Lux) dirs. Amandine Fredon, Benjamin Massoubre
Jury award – Interdit aux chiens et aux italiens (Fr-It-Switz) dir. Alain Ughetto
Distribution award – Interdit aux chiens et aux italiens (Fr-It-Switz) dir. Alain Ughetto
Jury distinction – My Love Affair With Marriage (Lat-US-Lux) dir. Signe Baumane
Jury distinction – Blind Willow, Sleeping Woman (Fr-Lux-Can-Neth) dir. Pierre Foldes
Contrechamp
Contrechamp award – Plethore de nords (Jap-Fr) dir. Koji Yamamura
Jury distinction – Chun Tae-il: A Flame That Lives On (S-Kor) dir. Jun-pyo Hong
VR works
Best VR work – Glimpse (Fr-Ir-UK) dirs. Benjamin Cleary, Michael O'Connor
Jury distinction – Goliath: Playing With Reality (UK-Fr) dirs. Barry Gene Murphy, May Abdalla
TV and commissioned films
Best TV production – My Year Of Dicks (US) dir. Sara Gunnarsdottir
Jury award for TV special – The House (UK-US) dirs. Emma De Swaef, Marc James Roels, Niki Lindroth Von Bahr, Paloma Baeza
Jury award for TV series – Dos pajaritos (Arg-Col-Uru) dirs. Alejo Schettini, Alfredo Soderguit
Best commissioned film – Save Ralph (UK) dir. Spencer Susser
Jury award for commissioned film – Aline (Fr) dir. Wes Anderson