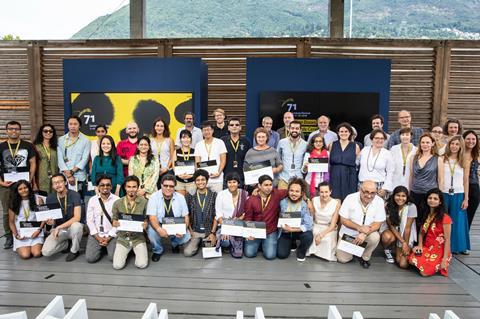 Filmmakers from Myanmar, Sri Lanka, Bangladesh and Nepal were among the winners of this year's edition of the Locarno Festival's Open Doors project showcase.
Myanmar-based poet, artist and filmmaker The Maw Naing won the Open Doors production grant of €30,300 (CHF 35,000) for his second narrative feature film project The Women.
The drama about four women from remote villages who travel to the city in search of work is being produced by the Berlin-based Yangon Film School and the director's own production company One Point Zero. The graduate of the Czech national film school FAMU founded the company in 2011 to produce films highlighting political and social issues in Myanmar.
The Women was also awarded the inaugural prize from Norway's South Film Fund (Sorfond) inviting the project to take part in its 'Pitching from the South' platform in Oslo in November.
'Mother'
Sri Lankan director-producer Sanjeewa Pushpakumara won the Open Doors development grant of €13,000 (CHF 15,000) for Mother, about a widow whose son is abducted towards the end of the 30-year civil war in Sri Lanka Pushpakumara's company Sapushpa Expressions is coproding the project with French producer Dominique Welinski's of DW.
'Sand City'
Bangladeshi filmmaker Madhe Hasan's debut feature Sand City won a €8,000 development grant from France's CNC. The award earns Hasan a two-month residency offered by the Winterthur International Short Film Festival in partnership with Villa Sträuli.
The project is about three inhabitants of Dhaka - a Buddhist monk, a materialist young man, and an ethnic minority woman – all united by the unstable element of sand.
'A Year of Cold'
Nepalese director Min Bahadur Bham won the €6,000 ARTE Kino International Prize his second feature project A Year Of Cold which focuses on the problems faced by women in contemporary Tibet and Nepal. French producer Catherine Dussart's CDP is co-producing the €350,000 production with Bham and Debaki Rai's Shooney Films.
Further prizes
Sri Lankan producer and filmmaker Sumudu Malalagama, who participated in the producer training workshop as part of the Open Doors Lab, was awarded the second annual grant from the TorinoFilmLab (TFL), to attend the TFL Meeting Event as part of a group of non-European producers in November.
Malalagama studied at the Asian Film School in Busan and won a development grant for her feature project Heli; The Daughter at Busan International Film Festival last year.
As the three-year focus on Southern Asia came to a conclusion this year, Sophie Bourdon, head of Open Doors, announced thenew three-year cycle would be devoted from to South East Asia – Laos, Thailand, Cambodia, Vietnam, Myanmar, Indonesia, Malaysia, the Philippines – and Mongolia from 2019-2021.
She noted this geographical spotlight would fall on a region "which has witnessed growth across its film industries over the past decade…Despite this progress, however, the requirements in terms of structure, training and international contacts continue to be of vital importance if the independent filmmaking scene there is to prosper artistically."