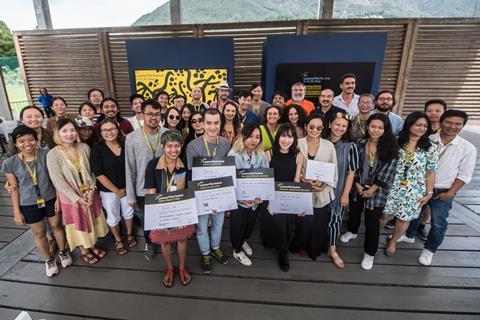 The 2019 Locarno Film Festival has named the prizewinners from its international co-production event Open Doors Hub and producers training workshop Open Doors Lab.
This year's Open Doors event, held as part of Locarno's industry programme Locarno Pro, was the beginning of a three-year focus on Southeast Asia (Laos, Thailand, Cambodia, Vietnam, Myanmar, Indonesia, Malaysia, Philippines) and Mongolia.
The Lab event welcomed nine producers from the region for training, while the Hub welcomed eight full-length features from the region seeking international partners.
From the Hub event, the Open Doors Grant, a $51,398 (CHF 50,000) production award financed by Swiss production support fund Visions Sud Est and by the City of Bellinzona, went to Makbul Mubarak's Autobiography (Indonesia/Singapore).
An $8,950 (€8,000) development grant presented by CNC (Centre national du cinema) went to Chuyen Bui Thac's Glorious Ashes (Tro Tan Ruc Ro, Vietnam/France).
The ARTE Kino International Prize, with a value of $6,710 (€6,000), was awarded to Pham Ngoc Lan's Cu Li Never Cries (Vietnam/Philippines/France).
The same film also picked up the Open Doors – Sørfond Award. The prize, awarded by the Norwegian film fund Sørfond, gives one Hub project the opportunity to attend its forthcoming Pitching from the South event.
The Lab programme awarded two prizes. Quynh Anh Le from the Hanoi Doclab in Vietnam received the Open Doors – Rotterdam Lab Award, which will offer them the opportunity to take part in the Rotterdam Lab 2020 training workshop.
Duong Thi Dieu Linh, a filmmaker from Vietnam, picked up the Open Doors – Moulin d'Andé-CECI Award, which is a screenwriting residency for an emerging director of full-length films, allowing them to further develop a feature project.