Superhero spin-off edges out John Wick and Hidden Figures to top weekly chart.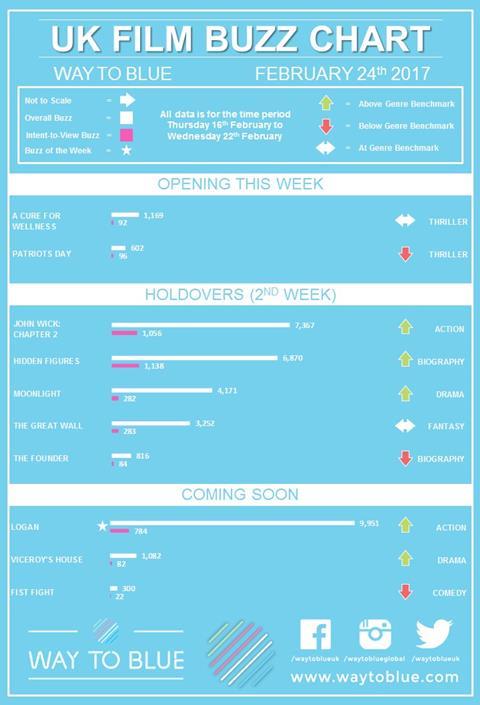 Hugh Jackman-starring Marvel spin-off Logan is prompting the most chatter on UK social media channels ahead of its release next Wednesday (March 1).
The film generated 9,951 comments across social media, news, forums and blogs over the last seven days, with 784 of those registering an intent to view.
John Wick: Chapter 2 and Hidden Figures, both entering their second week of release, were not far behind on this week's chart, which is provided by UK marketing outfit Way To Blue.
Action sequel John Wick: Chapter 2 garnered 7,367 comments, 1,056 of which expressed intent to view.
Oscar hopeful Hidden Figure gathered 6,870 comments, 1,138 of which registered intent to view.
Also generating attention on social media were Moonlight, The Great Wall and the upcoming Viceroy's House, which opens in the UK on March 3.
For an explanation of the Way to Blue chart and its methodology, which tracks 'overall buzz' and important 'intent to view' buzz, click here.