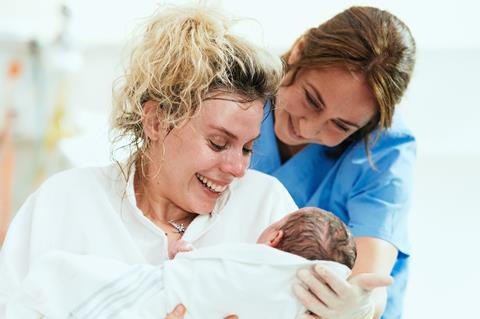 The Shift, the first TV series from Danish director Lone Scherfig, is among the new titles added to the Berlinale 2022 programme, which has added to its Series and Generation strands today.
The first two episodes of the eight-episode series will premiere in Berlinale Series. Scherfig is the creator and showrunner, with the show set to broadcast on TV2 in Denmark.
Scroll down for the latest Berlinale additions
The Shift follows a midwife who runs a maternity ward in Denmark where mental and physical strain pushes the close-knit team to their limits.
Scherfig opened the Berlinale with her 2019 feature The Kindness Of Strangers. Her history with the event includes playing eventual Oscar-nominee An Education there in 2009; and winning the Silver Bear in 2001 for Italian For Beginners.
Also debuting his first episodic work in Series is Philippe Falardeau, with Last Summers Of The Raspberries, created with Florence Longpré. It centres on a woman whose husband dies unexpectedly, leaving her to take care of two teenage sons, panic-prone in-laws, plus a farm replete with seasonal workers.
The first two episodes of the 10-episode series will world premiere in Berlin, before Club Illico will broadcast in Canada.
Falardeau opened the 2020 Berlinale with feature My Salinger Year, having won the Crystal Bear in 2009 for C'est Pas Moi, Je Le Jure!
From the UK, creators Pete McTighe and Charlotte Wolf will debut the first two episodes of The Rising, a supernatural crime thriller based on Belgian series Hotel Beau Séjour. Directors for the series include Vs. filmmaker Ed Lilly, with a cast led by Clara Rugaard, Matthew McNulty and Emily Taaffe.
Generation line-up
Fourteen features and 21 shorts have been selected for Generation, the festival's youth-focused strand; the features are divided between eight in Generation K-plus, for younger children; and six in Generation 14plus for teenagers and beyond.
Titles include Stay Awake, the debut of US filmmaker Jamie Sisley, adapted from his 2015 short of the same name which also played in Generation. The film a drama about a young man who has the chance to break out of the co-dependent relationship with his opium-addicted mother, when he receives a university acceptance.
The selection is the final one of section head Maryanne Redpath, who has worked at the festival for almost 30 years.
"To never underestimate the young audience, that growing up can be beautiful as well as dangerous, that this is no time for ordinary cinema – are lessons learnt at Berlinale Generation," said Redpath.
Earlier this week the festival confirmed reduced dates and a 50% screening capacity for the in-person event, running from February 10-16.
The concurrent European Film Market will take place online again this year, from February 10-17, with director Dennis Ruh giving details of how it will work to Screen yesterday.
Berlinale 2022 additions
*world premiere
Berlinale Series
Yosi, the Regretful Spy (Arg) cre. Daniel Burman, broad. Amazon Prime Video – 3/8 episodes*
Lust (Swe) cre. Frans Milisic Wiklund, broad. HBO Max – 4/8 episodes*
Suspicion (Cze-Fr) show. Stepan Hulik, broad. Czech Television, ARTE – 2/4 episodes
The Rising (UK) cre. Pete McTighe, Charlotte Wolf, broad. Sky – 2/8 episodes*
The Shift (Den) cre. Lone Scherfig, broad. TV2 – 2/8 episodes*
Black Sands (Ice) cre. Aldis Amah Hamilton, Ragnar Jonsson, Baldvin Z, Andri Ottarsson, broad. Channel 2 Iceland – 2/8 episodes
Last Summers of the Raspberries (Can) cre. Philippe Falardeau, Florence Longpré, broad. Club Illico – 2/10 episodes*
Generation
Generation K-plus
The Hill of Secrets (S Kor) dir. Lee Ji-eun*
Waters of Pastaza (Por) dir. Ines T. Alves*
Moja Vesna (Slovenia-Australia) dir. Sara Kern*
My Small Land (Jap) dir. Emma Kawawada*
The Realm of God (Mex) dir. Claudia Sainte-Luce*
The Apple Day (Iran) dir. Mahmoud Ghaffari*
Shabu (Neth) dir. Shamira Raphaela
Boney Piles (Ukr) dir. Taras Tomenko*
Generation 14plus
Alis (Col-Chil-Rom) dirs. Clare Weiskopf, Nicolas van Hemelryck*
Bubble (Jap) dir. Tetsuro Araki*
Kalle Kosmonaut (Ger) dirs. Gunther Kurth, Tine Kugler*
Scheme (Kaz) dir. Farkhat Sharipov*
Stay Awake (US) dir. Jamie Sisley*
The Land of Sasha (Rus) dir. Julia Trofimova*