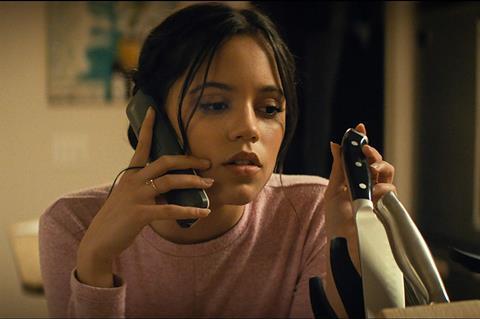 Paramount's franchise horror Scream will have the second-widest launch for an 18-rated film in the UK and Ireland this weekend, as a quiet session for new releases sees just four new films land in cinemas.
Scream will open in 622 locations, behind only Quentin Tarantino's Once Upon A Time… In Hollywood's 666 locations from 2019, among 18-rated films.
The film is the fifth entry in the Scream franchise, about a fictional identity called Ghostface which various people inhabit to go on killing sprees.
In this instalment, a new killer has donned the Ghostface mask and begins targeting a group of teenagers to resurrect secrets from the town of Woodsboro.
In The Heights' Melissa Barrera, Jenna Ortega from Netflix series You, Jack Quaid and Dylan Minnette are among the cast; as well as returning franchise stalwarts Marley Shelton, Courteney Cox, David Arquette, Neve Campbell and Roger L. Jackson.
It is the first film in the franchise not directed by horror maestro Wes Craven, who died in 2015; Matt Bettinelli-Olpin and Tyler Gillett take over directing duties.
The first film, released in May 1997 in the UK and Ireland, opened to £1.1m, on its way to £8.4m – a strong result for an 18 at that time.
That was almost matched by 1998's Scream 2 (opened: £2.5m; closed: £8.3m); with diminishing returns for 2000's Scream 3 (opened: £2.4m; closed: £6m) and 2011's Scream 4 (opened: £2.1m; closed: £5.6m) – the only one to be 15-rated.
The highest-grossing 18-rated film in the territory remains 2015's Fifty Shades Of Grey with £35m, followed by 2017 sequel Fifty Shades Darker with £23.2m, then Once Upon A Time… In Hollywood with £21.5m.
However, 18-rated titles have been in short supply since the pandemic, with the highest-grossing being another horror franchise returning after a long hiatus: Spiral: From The Book Of Saw from May 2021 (opened: £782,930; closed: £1.6m).
As the dominant new release this weekend, Paramount will look to surpass that figure and push towards the series' previous benchmarks.
Mubi milks its Cow
With just four new films, this is the quietest weekend for new releases since the pandemic began. Uncertainty over the Omicron variant has pushed several distributors to move titles to later in the year; for example, Magnetes Pictures was set to release Polish-language biopic Gierek today, but made a late change to January 28.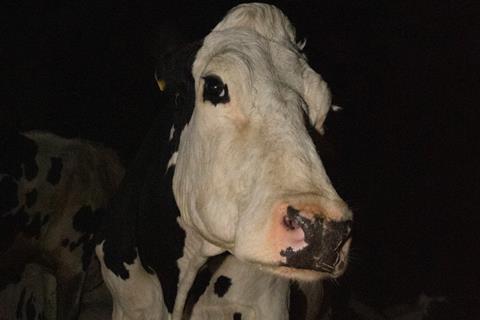 This may open opportunities for those titles that have stuck with this date. Among them are Andrea Arnold's documentary Cow, released in 36 locations by Mubi.
Backed by BBC Film and Doc Society, the film is a close-up portrait of the daily lives of two cows.
It debuted in the new Cannes Premiere section at last year's Cannes Film Festival, where Arnold was also president of the Un Certain Regard jury.
It is the UK director's first documentary feature, and fifth feature overall. All four previous titles have broken into six-figure territory: 2016's American Honey (opened: £176,072; closed: £477,661); 2011's Wuthering Heights (£156,931; £612,408); 2009's Fish Tank (£103,180; £599,282) and 2006's Red Road (£81,992; £330,547).
Mubi has upped its acquisitions across the past year, with 2021 festival buys including Celine Sciamma's Petite Maman and Cannes opener Annette. The distributor's record gross in the UK and Ireland is 2018 horror remake Suspiria, which opened to £163,501, closing on £349,768.
Sovereign Films is handling a 58-location release for Apichatpong Weerasethakul's 2021 Cannes Competition title Memoria, starring Tilda Swinton as a Scottish woman travelling in Colombia who begins to notice strange sounds.
The film's US release gained attention when distributor Neon pursued an innovative release strategy of only playing the film in one cinema at a time. It has also stated that the film will not be released on home video, on-demand or streaming platforms, with the cinema the only means of seeing it in the US.
Sovereign will give the film a 16-week theatrical window in the UK and Ireland, with 70 follow-on theatrical bookings secured already; but has not committed to the same cinema-only strategy.
It is a ninth feature film for Thai director Weerasethakul. His standout title is 2010 Palme d'Or winner Uncle Boonmee Who Can Recall His Past Lives (opened: £27,452; closed £122,484); Sovereign will hope the star power of Swinton can take Memoria past that mark.
Shear Entertainment is playing Briar March's documentary Mothers Of The Revolution in one location this weekend, with additional bookings in the coming weeks.
Holdovers will hold sway again in many cinemas, led by four-time number one Spider-Man: No Way Home. Other key titles include the third weekend of Disney's Bafta-longlisted The King's Man; and the second of awards contender Licorice Pizza, which opened in the top five last time out.