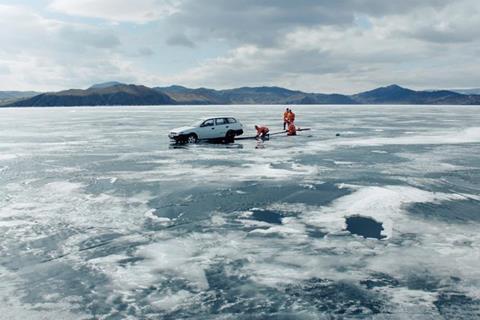 Documentary producers must be attending international film markets and seeking co-production partners to get their films made – that was the message from a spotlight on documentary funding in Scotland held at Glasgow Film Festival yesterday (Feb 27).
Venezuelan-born and Scotland-based producer Aimara Reques, whose Glasgow-based company Aconite Productions was behind 2018 Venice premiere Aquarela, emphasised filmmakers need to be looking beyond their local industries for funding.
"Take care of the small part of the world you're in [Scotland in her case], but find the right international partners to support your project's vision," Reques said on the panel. "Since I set up Aconite, I have known that you couldn't compete with the small pot of money that is here in Scotland, so I started working in the co-production model. All the projects I have now are co-productions – that model has woked for me and my company."
"We are focusing on international documentaries and we want to work on ambitious projects, on global issues. Where we are now, this time, it's important to think globally," she continued.
Making Aquarela
When Reques was setting up Aquarela - a documentary portrait of water in which filmmaker Viktor Kossakovsky traveed the world to capture water in all of its forms, with a clear nod to climate change – the producer knew it would be by far her company's most ambitious project to date.
Five and a half years ago, Reques took the nascent project to national funding body Screen Scotland looking for early development money while she attached a director. "It's very important to start any project with seed funding from your local film fund so it's important to establish that relationship, you need that trust," she said.
Also speaking on the panel, Mark Thomas, screen officer at Screen Scotland, recalled the initial meeting. "It was a bold vision, a creative piece of work that would shoot across the world and could have a significant impact in the for doc audiences," he said.
Thomas pointed out the film "shot just about everywhere aside from Scotland". While all projects must have an intrinsically Scottish element to receive backing from Screen Scotland, a Scottish perspective on international events also works. Aconite is Glasgow-based which qualified the project for backing.
After securing £50,000 from Screen Scotland, Reques was able to match that sum from a private entrepreneur, leaving her with £100,000 in the budget. "Anyone can make a film with that, but I knew it was only the seed of what we wanted to do," she recalled.
The next step was to take a concept trailer for the project to international film markets, where the team searched for co-production partners, further backers, and looked generate industry buzz. The film initially travelled to Copenhagen's CPH:DOX, where it won a Eurimages co-production award of €15,000 – it wasn't a game changing amount for Reques but she recalled the attention generated by the prize meant everyone at the market was talking about the film.
At CPH, Reques attached co-producers in the form of New York-based Louverture Films and Danish company Danish Documentary Production. The team also had German outfit Ma.Ja.De Filmproduktion already involved in the project after the company had previously collaborated with both Reques and Kossakovsky. Organisations including the BFI, Danish Film Institute, Sundance Film Institute, and Tribeca Film Institute also provided production finance, as did Participant Media whih is handling international sales. (Sony Pictures Classics went on to later buy distribution rights for North America, Australia, New Zealand, India, South Africa and Scandinavia,) The budget reached £2m once all partners were counted and the film was set up as a UK-Germany-Denmark-US co-production.
On the panel, Thomas emphasised the importance of such markets. "Aquarela was the highest budget documentary that we've been involved in to date. Films with that scale benefit from getting out to these markets."
He highlighted CPH:DOX, Sheffield Doc/Fest, Amsterdam's IDFA, and Toronto's Hot Docs as the most significant events, "These are the key markets where projects of all shapes and sizes can get in front of broadcasters and distributors."
However, Thomas also acknowledged finding the money to travel to those events and navigating them once there can be daunting. Screen Scotland can provide support for that, he highlighted, including development money to create your concept trailer, travel cost support, and help with knowledge on the ground.
Market attendance also helps Screen Scotland gauge appetite for a project and informs its further funding decisions, Thomas added.