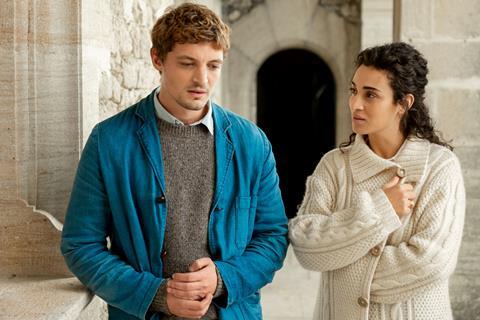 Emmanuel Mouret's love triangle drama Love Affair(s) won best film and Maïwen clinched best director for family history drama DNA at France's 2021 Lumière awards on Tuesday evening (January 19).
The Lumières, which are among the first awards in this year's awards season calendar, are voted on by some 130 international correspondents hailing from 40 countries and are regarded as France's equivalent of the Golden Globes.
Both winning titles were feted with a Cannes 2020 label selection last year.
Love Affair(s) co-stars Camelia Jordana as a pregnant young woman who gets unintentionally close to her partner's cousin. Other cast members include Emilie Dequenne, Niels Schneider, and Vincent Macaigne.
It is the 11th feature of popular actor and filmmaker Mouret, who broke out internationally in 2018 with costume drama Mademoiselle De Joncquières, which Netflix acquired and released worldwide under the title of Lady J.
Love Affair(s) was released theatrically in France by Pyramide Distribution last September. Elle Driver handles sales.
Maïwenn's fifth feature DNA draws on the filmmaker's own family history and revolves around a young French woman who delves into the past of her beloved Algerian grandfather after he dies.
The film played a raft of festivals over the summer and early autumn including Zurich, Ghent and San Sebastian, where it won the audience award.
Le Pacte had just launched its French theatrical release last October when cinemas were shut down due to the second wave of coronavirus. Wild Bunch International handles sales.
In other awards, Stéphane Demoustier won best screenplay for courtroom family drama The Girl With The Bracelet. It stars Roschy Zem and Chiara Mastroianni as a couple whose teenage daughter has been charged with murder. The film premiered in Locarno in 2019.
Italian director Filippo Meneghetti's debut feature Two Of Us, which was the front-runner at the nominations stage, came away with two prizes.
Meneghetti won best first film while Barbara Sukowa and Martine Chevallier shared the best actress award for their performance as a lesbian couple facing up to the challenge of coming out after two decades of secret passion and companionship.
The film is also France's submission for the Oscars best international feature film category this year. Sophie Dulac Distribution released the film in France in early 2020, while Magnolia is planning a February launch in the US this year.
In other prizes, Daniel Dufresne'sThe Monopoly Of Violence won best documentary. The work exploring police violence in France was a small breakout independent hit in France when it was released last autumn.
Two of this year's prize-winning films Slalom, for which its young star Noée Abita won best new actress, and Tunisian director Kaouther Ben Hania's drama The Man Who Sold His Skin, which won best international co-production, have yet to receive their theatrical releases due to the pandemic. The Lumière committee retained them in the competition in an act of solidarity
Due to the Covid-19 pandemic the Lumières eschewed the traditional ceremony in a prestige location and staged a free-to-air studio-based event that was broadcast on pay-TV channel Canal+.
This year's edition was dedicated to José María Riba, the late Spanish journalist and festival programmer who served as general director of the Lumières Academy from 2016 to 2019.
Riba, based in Paris for most of his career, was a former head of Cannes Critics' Week and also spearheaded San Sebastian's Films In Progress. He died last May.
The complete list of winners and nominations appears below with winners in bold.
Best film
Bye Bye Morons, Dupontel
Love Affair(s) , Emmanuel Mouret
Two Of Us, Filippo Meneghetti
Summer of 85, François Ozon
The Girl With The Bracelet, Stéphane Demoustier
Best director
Albert Dupontel, Bye Bye Moron
Maïwenn, DNA
Filippo Meneghetti, Two Of Us
Emmanuel Mouret, Love Affair(s)
François Ozon, Summer of 85
Best screenplay
Stéphane Demoustier, The Girl With The Bracelet
Filippo Meneghetti, Malysone Bovarasmy, Two Of Us
Jean-Louis Milesi, Josep
Emmanuel Mouret, Love Affair(s)
Caroline Vignal, My Donkey, My Lover & I
Best documentary
Adolescents, Sébastien Lifshitz
The Tie, Etienne Chaillou, Mathias Théry
Kongo, Hadrien La Vapeur et Corto Vaclav
The Monopoly Of Violence, David Dufresne
If It Were Love, Patric Chiha
Best animation film
Calamity, A Childhood Of Martha Jane Cannary, Rémi Chayé
Marona's Fantastic Tale, Anca Damian
Josep, Aurel
Little Vampire, Joann Sfar
Best actress
Laure Calamy, My Donkey, My Lover & I
Martine Chevallier and Barbara Sukowa, Two Of Us
Emmanuelle Devos, Perfumes
Virginie Efira, Bye Bye Morons
Camelia Jordana, Love Affair(s)
Best actor
Sami Bouajila, A Son
Jonathan Cohen, Enormous
Albert Dupontel, Bye Bye Morons
Nicolas Maury, My Best Part
Jérémie Rénier, Slalom
Best new actress
Noée Abita, Slalom
Najla Ben Abdallah, A Son
Nisrin Erradi, Adam
Mélissa Guers, The Girl With The Bracelet
Fathia Youssouf, Cuties
Best new actor
Guang Huo, Night Ride
Félix Lefebvre and Benjamin Voisin, Summer Of 85
Djibril Vancoppenolle, Small Country, An African Childhood
Alexandre Wetter, Miss
Jean-Pascal Zadi, Tout Simplement Noir
Best first film
Two, Filippo Meneghetti
Arab Blues, Manele Labidi
Cuties, Maïmouna Doucouré
Slalom, Charlène Favier
Tout Simplement Noir, Jean-Pascal Zadi, John Wax
Best international co-production
Abou Leila, Amin Sidi-Boumédiène
Adam, Maryam Touzani
A Son, Mehdi M. Barsaoui
The Man Who Sold His Skin, Kaouther Ben Hania
La Llorona, Jayro Bustamante
You Will Die At 20, Amjad Abu Alala
Yalda, A Night For Forgiveness, Massoud Bakhshi
Best cinematography
Hichame Alaouie, Summer Of 85
Renato Berta, The Salt Of Tears
Laurent Desmet, Love Affair(s)
Yann Maritaud, Slalom
Aurélien Marra, Two Of Us
Best soundtrack
Bertrand Burgalat, Appearances
Florencia di Concilio, Calamity, A Childhood of Martha Jane Cannary
Silvia Pérez Cruz, Josep
Pablo Pico, Marona's Fantastic Tale
Rone, Night Ride