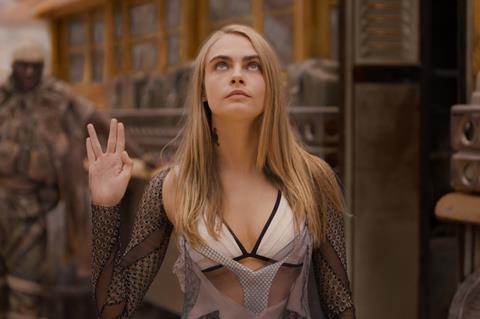 French filmmaker and producer Luc Besson's embattled film company EuropaCorp has posted a $101m (€88.9m) loss for the first half of the 2018-19 financial year, as it struggles to bring debts worth some $280m (€236m) under control.
The results come on the back of a turbulent three weeks for the company and its founder, after French media reported a fresh round of sexual misconduct accusations against Besson, following those of Belgian actress Sand Van Roy, who filed a police complaint against the filmmaker in May. Besson denies all allegations.
The six-month results, released after the close of the Paris bourse on Thursday evening, herald a fourth loss-making year in a row for EuropaCorp. It has not turned a profit since 2013-14 when it announced net income of $227,000 (€200,000).
By comparison, net income for the first-half of 2017-18 came in at -$80.2m (-$70.6m) for a final annual result of -$91.7m (-€82.1m), and -$31.3 (-€27.6m) for the same period in 2016-17, which went on to post a record annual loss of $132m.
The company said that on the basis of the loss recorded on the first semester it was likely EuropaCorp would "recognise a FY 2018/19 significantly in deficit".
The company's last majorly profitable year was in 2012-13 when it announced record net income of $22.2m (€19.2m).
Costs fall but so do revenues
The $101m loss comes amid a radical restructuring plan as EuropaCorp attempts to rein in its debts.
These have accumulated over the last five years on the back of a series of disappointing English-language mid-range dramas, comedies and thrillers; an ill-fated attempt to break into the US distribution scene and Besson's high stakes gamble on passion project Valerian And The City Of A Thousand Planets which put in a lacklustre performance at the international box office and barely made back its $200m budget.
Over the last 12 months, the company has shed more than two-thirds of its staff, reducing its foreign sales and distribution departments to skeleton operations; sold-off a number of non-core activities, such as its French TV production arm and its Roissy Film library; dwindled down its production and distribution slate, and abandoned its ambitions to break into the US distribution and production scene.
The company also recently announced a new three-year distribution partnership with French major Pathé for upcoming espionage thriller Anna, starring Helen Mirren, and Guillaume Canet's Nous Finirons Ensemble, the sequel to his 2010 hit Little White Lies. The company presented this as a major breakthrough in terms of its bid to return to financial health but the impact of this does not feed into the first-half results.
And while the previous actions have helped return EuropaCorp's operating margin to positive territory - of $10.8m (€9.6m), or 11.8% of revenue – in the first half of 2018/19, the company's dwindling distribution and production slate is weighing on revenues.
Overall revenue came in at $92m (€81.4m) for the period, representing a 58.8% drop on the same period in 2017/18, when the company posted revenues of $158m (€140.2m). The figure was higher, however, than the first half of 2016/17 when revenue came in at $68m (€60.6m).
Breaking this down, the company said income from foreign sales for the first half of 2018-19 fell by $60m (€53m) to €11.8m, against the same period the previous year, which had benefited ongoing returns from Valerian And The City Of A Thousand Planets.
This fresh revenue had derived from the delivery of Taxi 5 and overages collected on Lucy, Taken 3 and Valerian And The City Of A Thousand Planets.
Revenue from theatrical distribution for the period stood at $6.4m (€5.7m), against $40m (€35.5m) in the same period last year, which had been buoyed by the success of Valerian And The City Of A Thousand Planets at home.
EuropaCorp's biggest French release Taxi 5, which it handled jointly with ARP Séléction and launched last April, had drawn a respectable 3.7m spectators for a $29m gross by the end of November.
In other releases for the period, French hypochondriac comedy I Feel Better(Je Vais Mieux) grossed around $1m while action thriller Renegades drew some 60,000 spectators in France and has made $2.2m at the worldwide box office on a budget of $77.5m.
The company said one of the factors impacting local and international revenues had been "a film not released and greenlighted in 2016", in what was believed to be a reference to Besson's thriller Anna, which was to have been released by Lionsgate this autumn but is in limbo. It was among a dozen "impairments" cited by the company as weighing on revenue.
Video and VOD revenue held broadly steady at $9.9m (€8.8m), versus $10m (€8.9m) last year driven by DVD sales of Taxi 5 in France and returns from Valerian and other catalogue titles Coexister and Carbone.
Television sales and SVOD grew by 41%, or $6m (€5.3m), to $20m (€18.3m).
"This growth is linked to the opening of new broadcasting rights windows in France, notably Valerian And The City Of A Thousand Planets and Coexister, as well as Lucy and Taken 2," said the company.
The other bright spot was revenue from its TV series production in the US which rose by $17.3m (€15.8m) to $22.4m (€19.8m), thanks to the delivery to NBC of the last six episodes of the second season of the international series of Taken, as well as international sales.
What's next
Looking to the future, the company said its three main objectives were to reinforce the company's financial strength and restructure or refinance its debts; further reduce overheads and focus on films with a "high coverage rate" and to "de-risk the model".
Releases not included in the first-half figures that would impact the final annual results comprised Thomas Vinterberg's submarine drama Kursk, which has drawn some 119,000 spectators in France since its release on Nov 7, Anna and Nous Finirons Ensemble.
No films were announced as being in the pipeline but the company said it was pushing on with two previously announced English-language series, The Extraordinary Adventures Of Adele Blanc Sec, which Besson previously brought to the big screen, and American Flagg!, based on a US graphic novel by Howard Chaykin.
In the backdrop, French financial newspaper Les Echos reported earlier this week that EuropaCorp had mandated French bank Messier Maris & Associés to find a strategic partner for the company, replacing JP Morgan.
The newspaper reported that there were four potential partners interested in the company. A spokesman for the company would not comment on the report.
EuropaCorp needs to find fresh investment or restructure its debt by early next spring when a $120m credit line is due for repayment.