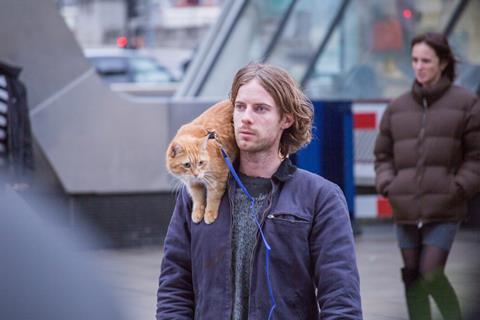 Luke Treadaway will reprise his lead role in A Gift From Bob, the sequel to drama A Street Cat Named Bob that The Exchange continues to pre-sell at AFM.
The sequel centres on the life of James Bowen, a busker and recovering addict whose life was transformed when he met a stray ginger cat. Charles Martin Smith (Dolphin's Tale, A Dog's Way Home) will direct from a screenplay by Garry Jenkins.
Production is scheduled to start in London this month in time for a 2020 December holiday season release.
Adam Rolston, Tracy Jarvis and Steve Jarvis of Parkhouse Pictures are producing, and executive producers are Brian O'Shea and Nat McCormick of The Exchange, Andrew Boswell of Twickenham Studios, Martin Metz and Adrian Politowski of Align, Mick Southworth, Martin McCabe and Phil Burgin of Enriched Media Group, and Bowen and Jenkins.
Treadaway currently stars in Netflix's Traitors and ITV's The Singapore Grip.
The Exchange introduced A Gift From Bob at Toronto. CEO Brian O'Shea's AFM sales slate includes Anna Faris dual-role comedy Summer Madness.