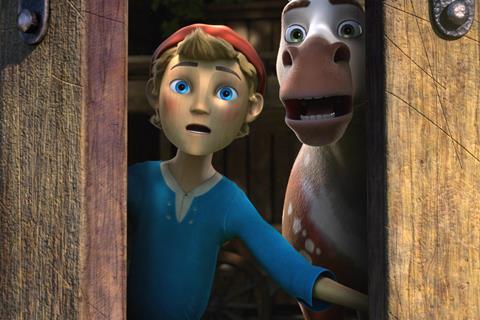 Grindstone Entertainment Group has taken North American rights to 3D CG-animated comedy Pinocchio: A True Story from Budapest-based outfit Luminescence, which is handling international sales.
The announcement was made at the start of the AFM by Grindstone president and CEO Barry Brooker, Grindstone partner Stan Wertlieb and Juraj Barabas, managing director of Luminescence. The deal was negotiated between Wertlieb and Barabas.
Luminescence has also confirmed several other deals on the film, including the UK (Vertigo), Australia (Rialto), France (KLB), Portugal (Lusomundo), Poland (Monolith), Hungary and Romania (Vertical), Czech Republic and Slovakia (AQS), ex-Yugoslavia (Blitz), Bulgaria (BTV), Israel (Tulip), Middle East (Front Row), South Africa (Filmfinity), Malaysia (Suraya), Mongolia (FilmBridge) and Southeast Asia pay-TV (Disney).
The film is scheduled to be released theatrically in Russia by Sony Pictures in early 2022. Grindstone is also planning an early 2022 release.
Directed by Vasily Rovensky and produced by Roman Borisevich, Maxim Rogalsky and Rovensky, this version of Pinocchio see the young wooden boy joining a travelling circus to see the world and falling in love with young gymnast Bella. To win her love, he needs to find fairy Lucilda, become a real boy, and escape the policeman who suspects he is the thief stealing from the circus's customers.
"The classic tale of Pinocchio is reinvented in this beautifully animated film filled with comic adventure that is also a tender love story. Juraj's team at Luminescence has delivered a family film that Grindstone is proud to bring to our family audiences," said Wertlieb.
"Pinocchio is one of the most recognisable characters and we are pleased to bring this big, 3D CGI animated feature film to audiences around the world," said Barabas.
Luminescence's sales slate for AFM also includes animated features Nutcracker and The Magic Flute, and live-action thrillers Infiltration and The One.