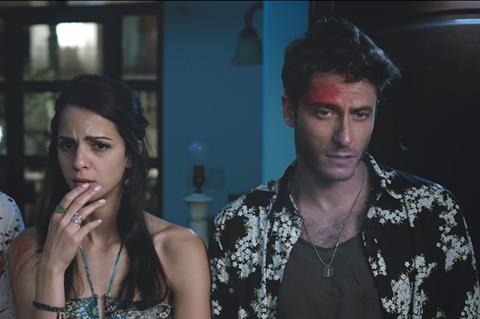 M-Appeal has closed North American deals on two of the most prominent titles on its virtual Marché slate.
The Berlin-based sales outfit confirmed that Artsploitation Films has acquired Michael Mayer's Happy Times, a horror comedy set over the course of a Shabbat dinner in a luxurious Hollywood mansion. Mixing satire and genre elements, the film stars Israeli actor Michael Aloni (Shtisel) and Stéfi Celma.
Happy Times is produced by Mayer, Paola Porrini Bisson and Tomer Almagor. Executive producers are Gabrielle Almagor, Richard Bisson and Erri De Luca. Artsploitation plans to give the film a small theatrical release in Q1 2021.
M-Appeal has also sold Nigina Sayfullaeva's Fidelity to Capelight Pictures. An intimate character study about a young married woman who lusts for more pleasure, the erotic drama deals with female sexuality in a way that is rarely explored on screen in Russia.
"With Fidelity, we are expanding the variety of genres in our catalogue of US releases. It's our passion to bring more foreign-language titles to the US market," commented Steffen Gerlach from Berlin-based independent distributor Capelight Pictures, which has been releasing films in the US since 2018.

The deal on Fidelity comes as the film has posted good box-office numbers in Hong Kong, where it has just been released in cinemas by Edko, under current social-distancing guidelines that require chessboard seating in the cinemas. Produced by Sergey Kornikhin and Valeriy Fedorovich through Droog Drooga Film Company and Premier Studios, the film stars Evgeniya Gromova, Aleksandr Pal, Aleksey Agranovich, Anna Kotova, Marina Vasileva and Pavel Vorozhtsov.
Operating as a distributor since 2004, Capelight released its first film in the US two years ago and is building up its library of foreign-language acquisitions, partnering with Chicago-based MPI Media Group for the US market. Recent titles include German and Russia films The Collini Case, Cut Off, Coma and Attraction 2, as well as Korean movies such as Ashfall, The Man Standing Next, The Closet and Secret Zoo.
Other recent deals on Happy Times include Germany, Austria and Switzerland (Meteor Film), South Korea (Entermode Corp), Taiwan (Moviecloud) and ex-Yugoslavia (MCF MegaCom Film).
Fidelity has also gone to multiple territories including France (ARP), South Korea (Entermode Corp, which will release the title theatrically this autumn) and Taiwan (Moviecloud).