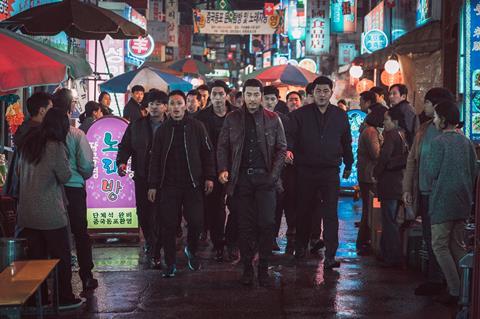 South Korean sales agent M-Line Distribution has sold recent action hit The Outlaws to Japan (Fine Film), Taiwan (Movie Cloud), Singapore and Malaysia (Clover Films), Hong Kong (Edko Film) and Australia and New Zealand (JBG Pictures).
The film stars Don Lee (Train To Busan) as a ruthless detective leading a crime sweep after gangsters from Harbin led by Jang Chen, played by Yoon Kye-sang (The Bacchus Lady), the throw the city into bloody chaos.
Released Oct. 3, the film clocked up more than 6 million admissions at the local box office and is currently the fifth biggest hit of the year, according to the Korean Film Council.
KBS America opened the film in North American cinemas last month.
M-Line has also sold crime thriller A Special Lady to Taiwan (AV-Jet), the Philippines (Viva Communications) and in-flight rights to Aero Vision.
Starring Kim Hye-soo (The Thieves) as the second in command of an elite criminal organization, the film follows the action and drama that arise as her enforcer Sang-hoon, played by Lee Sun-kyun (A Hard Day), starts to chafe under his duties while harboring unrequited love for her, a prosecutor she has ensnared seeks revenge, and the son she secretly gave birth to arrives back from abroad.
Set for local release Nov 9, the film picked up the Focus Asia - Best Feature Length Film award at Sitges.