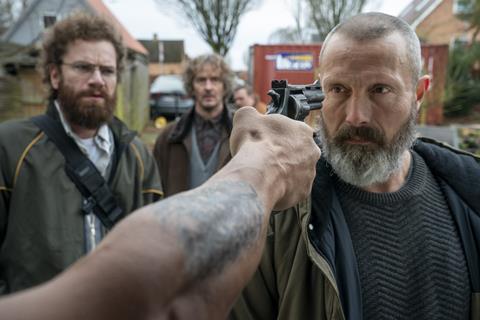 Vertigo Releasing has acquired UK and Ireland rights to Anders Thomas Jensen's Danish dark comedy Riders Of Justice, starring Mads Mikkelsen, from TrustNordisk.
The distributor is hoping to release the film in spring 2021.
The story centres on military man Markus (Mikkelsen), who returns home to his teenage daughter after his wife dies in a tragic train accident. But when a passenger on the wrecked train surfaces with claims of foul play, Markus begins to suspect the accident may have been a carefully orchestrated assassination.
Alongside Mikkelsen, who was recently confirmed to replace Johnny Depp in the Fantastic Beasts franchise, is Nikolaj Lie Kaas, Lars Brygmann, Nicolas Bro, Gustav Lindh and Andrea H Gadeberg.
The producers are Sisse Graum Jørgensen and Sidsel Hybschmann for Zentropa Entertainments3 and the co-producers are Film i Väst and Zentropa Sweden with support from the Danish Film Institute's Market Scheme, FilmFyn, Nordisk Film & TV Fond and Media, in collaboration with YouSee, TV 2 Denmark, YLE and SVT.
Jensen is the screenwriter behind Susanne Bier's Oscar-winning In A Better World and has directed features including Men & Chicken, Adam's Apples, The Green Butchers and Flickering Lights – all of which starred Mikkelsen.
TrustNordisk has previously sold Riders Of Justice to Germany and Austria (Splendid); Russia and CIS (Cappella); Benelux (September); Baltics (Estin); Czech Republic and Slovakia (Film Europe); Poland (Best Film); Hungary (Vertigo Media); and Albania, Slovenia, Croatia, Serbia & Montenegro, Bosnia-Herzegovina, Kosovo, Macedonia (Cinemania Groupicon).