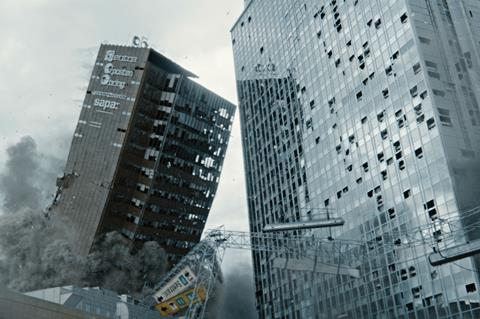 Magnolia has acquired US rights to The Quake from TrustNordisk; Screen can exclusively reveal this first image from the film.
Other newly signed deals include to Canada (Mongrel); Russia, Ukraine and Kazakhstan (Volga); Turkey (Sinema TV Yay. VE PROD), and India (One World Movies).
The film imagines an earthquake hitting Oslo. The $6.4m project, directed by John Andreas Andersen, marks a return to the disaster genre for Fantefilm, producers of hit The Wave. (Magnolia also distributed The Wave in the US).
The project reunites The Wave's producers Martin Sundland and Are Heidenstrøm of Fantefilm and scriptwriters Harald Rosenløw Eeg and John Kåre Raake. The Norwegian Film Institute is backing.
Previously confirmed deals include to Poland (Mówis Serwis), former Yugoslavia (Cinemania Groupicon); Spain (Selectavision); Myanmar, Cambodia, Vietnam, Indonesia and Malaysia (CM Holdings); German-speaking territories (SquareOne), Latin America (California); China (DD Dream); Hong Kong (Sundream);Taiwan (Moviecloud); Middle East (Gulf) and South Korea (AtNine).
The Norwegian release is set for Aug 30.