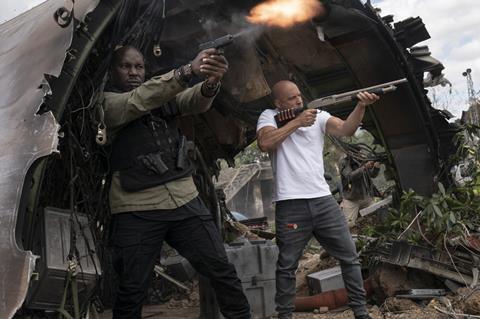 Worldwide Box Office June 25-27 2021
| Rank | Film (Distributor) | 3-day (World) | Cume (World) | 3-day (Int'l) | Cume (Int'l) | Territories |
| --- | --- | --- | --- | --- | --- | --- |
| 1 | Fast & Furious 9 (Universal) | $107m | $404m | $37.9m | $334m | 46 |
| 2 | A Quiet Place Part II (Paramount) | $15.8m | $248.4m | $9.6m | $112.1m | 49 |
| 3 | Cruella (Disney) | $14.3m | $183.8m | $10.6m | $112.5m | 43 |
| 4 | The Hitman's Wife's Bodyguard (Lionsgate) | £12.4m | $40.3m | $7.6m | $14.4M | 24 |
| 5 | Peter Rabbit 2: The Runaway (Sony) | $11.1m | $107.8m | $6.3m | $79m | 31 |
Credit: Comscore, all figures estimates
'Fast & Furious 9' accelerates with $108m session
UPDATED: Universal's Fast & Furious 9 entered several major markets in its sixth lap of international release, adding a confirmed $38.8m, while also opening in North America with an estimated $70.0m. The numbers combine for a $108.8m weekend session, taking the total to $405.6m. Unsurprisingly, Fast & Furious 9 tops the international, North America and worldwide box office (see top 5 chart).
Mexico, a traditionally strong market for the Fast franchise, saw the film debut with a chart-topping $10.9m, setting a record there for a pandemic-era opening.
In the UK and Ireland, Fast & Furious 9 revved out of the starting grid with $8.3m over the first four days. Previously, the biggest UK and Ireland opening of the pandemic era was Tenet last August, with $7.4m earned over five days.
F9 opened in 22 new territories at the weekend, taking the total release markets to 45. The film opened at number 1 in all its fresh markets. Other high spots were Brazil, with $2.6m for the weekend, and Central America and Colombia both with $1.8m. Norway opened with $1.1m, the second-biggest debut of the Fast franchise in the Nordic territory, just below Fast & Furious 7.
Australia was the top holdover market, with a $2.8m second session. That's a notable dip from its $6.6m opening there, but the country is facing fresh restrictions and closures because of spiralling Covid-19 cases. Total after 11 days in Australia is $11.1m.
Fast & Furious 9 is now 33% of the way to matching Fast 8's global total of $1.24m, which comprised $226m in North America and $1.01bn in international markets. The biggest film of the series arrived courtesy of Fast 7 (the last to feature Paul Walker), which delivered an impressive $1.16bn for international, $353m in North America and $1.52bn worldwide.
Fast & Furious 9 next lands in Spain this Friday (July 2), with France, Germany, Italy and Japan all to follow.
'A Quiet Place Part II' closes in on $250m global
Paramount's A Quiet Place Part II added just three new markets at the weekend – Netherlands, Belgium and Italy – and in total grossed an estimated $9.6m for international, taking the tally to $112.1m. The John Krasinski-directed horror sequel has also grossed an estimated $136.4m in North America, taking the global total to $248.5m.
A Quiet Place Part II is now playing in 48 territories, representing 83% of the international rollout. On a like-for-like basis, the film is running 12% ahead of the pace set by the original A Quiet Place.
The three new territories delivered a combined $1.47m, led by Netherlands with $680,000. Top holdover markets were South Korea with $1.4m it its second weekend (down 51% from the opening session) and China and France both with $1m. In France, the film dipped just 28%, and the total so far is $3.1m.
The original A Quiet Place grossed $188m in North America, $153m in international, and $341m worldwide. There are 17 markets yet to open A Quiet Place Part II, including Germany this week and Brazil on July 22.
'Cruella' adds $14.3m for $184m global total
Ranking third in the worldwide box office behind Fast & Furious 9 and A Quiet Place Part II is Cruella, with an estimated $14.3m weekend takings: $10.6m for international (down 30%) and $3.7m in North America (down 23%). Cumulative totals are $112.5m for international, $71.3m in North America and $183.8m worldwide.
Cruella is available simultaneously via Disney+ on Premier Access for subscribers, in territories where the service operates.
Cruella was boosted by a chart-topping opening in France (where the film is not available on Disney+ because of the country's media chronology laws), with an estimated $2.2m. Cruella's French opening was the equal-second-biggest of the pandemic era, behind The Conjuring: The Devil Made Me Do It and level with Demon Slayer: Mugen Train. France currently operates with 66% capacity restrictions, although this is set to change to 100% on Wednesday.
Cruella remains the number 2 film in Germany, Italy and Austria. Top territory totals to date are in China ($20.9m), South Korea ($12.6m), UK ($11.0m), Mexico ($10.3m) and Russia ($9.0m). This coming weekend, this Cruella De Vil origins tale lands in Turkey.
Disney also has Pixar animation Luca on release – in 12 territories where Disney+ does not operate – grossing an estimated $4.5m for the weekend period and taking the total after two weekends to $11.6m.
There was one new opening, Hong Kong, which delivered an estimated $800,000. Holdover territories dropped by 27% overall, although there were wild differences, with Poland, Czech Republic, South Africa and Hungary all showing gains, and Israel dipping just 9%. Luca remained top of the Russian box office, where it has grossed $3.8m so far. Other top territories are South Korea ($2.0m), Saudi Arabia ($1.3m) and UAE ($1.0m).
This weekend sees Luca arrive in Greece.
'The Hitman's Wife's Bodyguard' adds $12.5m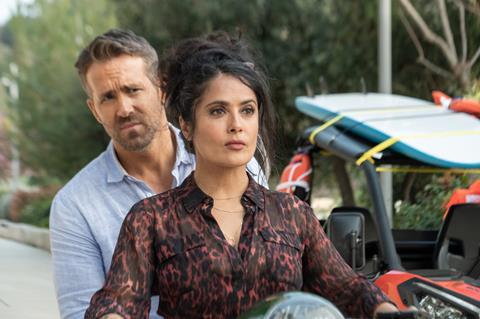 Ranking fourth at the worldwide box office, Lionsgate and Millennium Media's The Hitman's Wife's Bodyguard added $7.6m in international markets and $4.9m in North America. Totals so far are $14.5m for international, $25.9m in North America and $40.4m worldwide.
Ryan Reynolds, Salma Hayek and Samuel L Jackson reprise their roles from the first film, and the cast also includes Antonio Banderas and Morgan Freeman.
The original The Hitman's Bodyguard grossed $75.5m in North America, $101.1m in international markets and $176.6m worldwide in 2017.
Historical drama '1921' tops China box office
Top new title at the global box office arrived courtesy of Tencent Pictures in China: 1921, which tells the story of the founding of the Communist Party in China. The historical drama, which officially opens on July 1 to commemorate the 100th anniversary of the party's founding, played previews at the weekend, generating $11.5m according to Artisan Gateway figures. (1921 doesn't feature in our worldwide box office chart above because Comscore doesn't publish box office data until after a film's official opening.)
1921 is co-directed by Huang Jianxin (recent titles as director or co-director include patriotic dramas Mao Zedong 1949, Beginning Of The Great Revival and The Founding Of A Republic) and Zheng Dasheng (Bangzi Melody). The film features many Chinese stars appearing in cameos as key figures in Communist history.
Elsewhere at the China box office, Taiwanese romantic drama Man In Love held strongly in its third session with $5.3m, taking the total after 17 days to $27.2m. The film – which is a remake of a 2014 South Korean romantic drama about a low-level gangster who learns he has a terminal illness and falls in love for the first time – has grossed $41.7m worldwide so far including $14m in Taiwan.
Shanxi Tourism Group's Between Us, a music-themed romantic drama starring Song Ningfeng and singer-songwriter Kelly Wenwen Yu, landed in third place, with debut box office of $5.0m.
The China top five is rounded out by Peter Rabbit 2: The Runaway ($3.4m; $21.8m total) and On Your Mark ($3.3m; $16.2m total).