EXCLUSIVE: Deals include multi-territory accord by Sony Pictures Worldwide Acquisitions.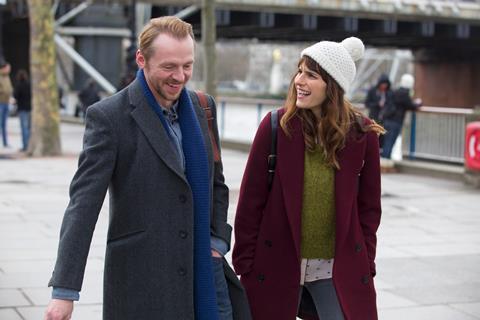 StudioCanal has been notching up sales on upcoming, London-set rom-com Man Up, starring Simon Pegg and Lake Bell.
The film, directed by Ben Palmer and produced by London-based Big Talk Pictures, was written by Tess Morris.
It revolves around a chaotic first date between a recent divorcee (Pegg) and a disillusioned singleton (Bell) involving lost divorce papers, a stalker and some competitive indoor sport.
StudioCanal head of sales Anna Marsh said: "Tess is a such a talented writer that the film already generated a lot of interest at Berlin on the basis of the script alone - it's a real page-turner - but sales really took off in Cannes on the back of the promo-reel. There's a real chemistry between Simon and Lake on screen."
The film has sold to much of the world including Benelux (eOne Benelux), Switzerland (Impuls Pictures), Portugal (Lusomundo), Israel (Forum Film), Middle East (Selim Ramia & Co) and Korea (Pan Cinema).
Sony Pictures Worldwide Acquisitions signed a multi-territory deal for Greece, Scandinavia, Iceland, Eastern Europe, Turkey and Latin America.
StudioCanal plans to release the film in the UK in spring 2015. It is also handling distribution in Germany, France, Australia and New Zealand.
A number of US companies are circling the film, said Marsh, adding a North American deal would probably be done on the back of the finished film. She is also expecting strong interest from China, which delivers strong box office results with rom-coms, again on the film's completion.
"It's been while since there's been a big UK, feelgood rom-com so its attracting a lot of interest," added Marsh.
The film, which is in post-production, shot in London earlier this year. Other cast members include Rory Kinnear, Olivia Williams, Sharon Horgan, Harriet Walter, Ken Stott and Stephen Campbell Moore.
Producers are Nira Park, James Biddle and Rachael Prior. Executive producers are Matthew Justice, Simon Pegg, Dan Cheesbrough, Danny Perkins, Jenny Borgars, Christine Langan and Joe Oppenheimer.