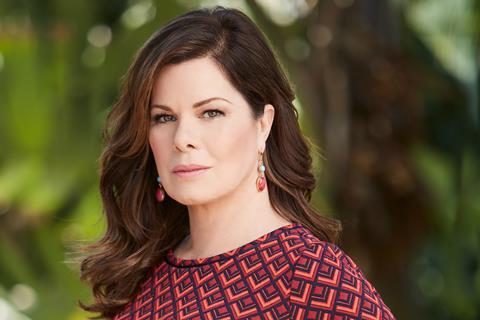 Greg Silverman's Stampede is ramping up and has announced that Marcia Gay Harden has joined the cast of the company's first feature, Pink Skies Ahead.
Production is scheduled to kick off next week in Los Angeles on the story of a wild young woman, Winona, whose life unravels after she drops out of university, moves in with her parents, and is diagnosed with an anxiety disorder.  
Harden will play Winona's mother, Pamela, who along with her husband Robert had been planning to sell the house and travel in retirement. Kelly Oxford, on whose essay No Real Danger the film is based, adapted the screenplay and makes her feature directorial debut. The cast includes Henry Winkler, Rosa Salazar and Jessica Barden as Winona.
Stampede's Gideon Yu and Chris Bosco will serve as executive producers with Stampede's Silverman and Lisa Zambri on board as producers, alongside Divide/Conquer's Greg Gilreath and Adam Hendricks as producers, and Zac Locke as executive producer.   
Harden won the Oscar for Pollock, and also starred in The Mist, Mystic River, Into The Wild, and the Fifty Shades franchise, among others, and most recently starred in CBS series Code Black, and ABC's How To Get Away With Murder. She will soon be seen in Netflix's Point Blank and the National Geographic drama Barkskins.
Former president of Warner Bros Pictures Silverman set up Stampede with lead investor and co-chairman Yu, the former Facebook and YouTube CFO. Additional investment comes from Silicon Valley, Asia, and the US media space.
Divide/Conquer has produced Lucky, The Wind, and Cam, among others.