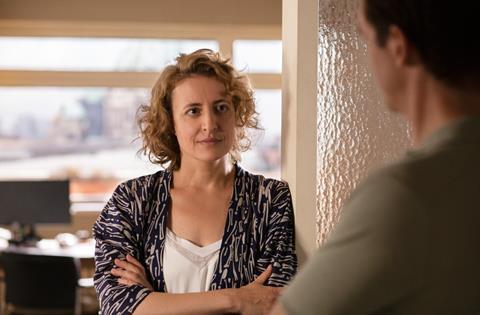 Maria Schrader's I'm Your Man was the big winner at the Lolas, the German Film Awards in Berlin on October 1, winning best film, best director, best screenwriter for Schrader and Jan Schomberg and best actress for Maren Eggert.
I'm Your Man is produced by Lisa Blumenberg's Hamburg-based Letterbox Filmproduktion. It is Germany's entry to the best international film category at the Oscars. I'm Your Man had its world premiere in competition at the Berlinale in March where Eggert also won the Berlinale's Silver Bear for her performance.
The evening's favourite with 10 nominations - Dominik Graf's Fabian Going To The Dogs - picked up the Silver Lola for best film and a Golden Lola for Hanno Lentz's cinematography. The Lola for best documentary went to Maria Speth's Herr Bachmann Und Seine Klasse.
The bronze Lola for best feature film went to Johannes Naber's political satire Curveball, produced by Bon Voyage Films. It also took home the best supporting actor honours for Thorsten Merten.
The best supporting actress prize was won by Lorna Ishema for her performance in Sarah Blaßkiewitz's Precious Ivie.
This year's Honorary Lola was awarded too veteran actress and producer Senta Berger whose son Simon Verhoeven received the Lola for the most successful German film of 2020 for Nightlife.
The ceremon took place with an audience of 1,200 at the Palais am Funkturm in Berlin on Friday evening was one of the first big major events for the German film community to meet up and catch up on news about latest projects and career moves after 18 months of being physically apart.