The first trailer for Martin Scorsese's mob drama The Irishman has been released by Netflix.
It gives a glimpse of the film's digital 'de-aging' visual effects for the first time, which has been used on stars Robert De Niro and Al Pacino to show their characters in middle age.
The work was carried out by Industrial Light & Magic and contributed significantly to the film's production budget, reported at up to $200m. Another high-profile upcoming project relying on the controversial technology is Ang Lee's Gemini Man, which sees Will Smith face off against a younger version of himself.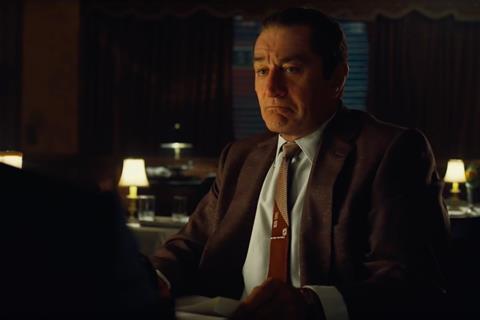 The Irishman is based on Charles Brandt's non-fiction book I Heard You Paint Houses. De Niro plays the titular character Frank Sheeran aka The Irishman, who has links to the Bufalino crime family and may have been involved in the murder of Teamsters union boss Jimmy Hoffa, who disappeared in 1975. Pacino portrays Hoffa, with Joe Pesci playing Pennsylvania mob boss Russell Bufalino.
It will world premiere as the opening night film of the New York Film Festival on September 27. Netflix has yet to unveil details of the theatrical release strategy, but it could follow a similar plan to ROMA by opening in select theatres and on the platform later this year.
Producers on The Irishman are Scorsese, De Niro, Randall Emmett, Jane Rosenthal, Emma Tillinger Koskoff and Irwin Winkler.