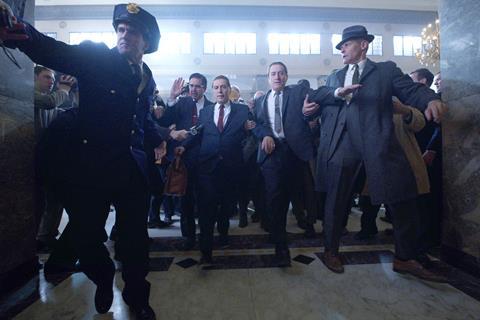 Martin Scorsese's highly-anticipated mob drama and awards hopeful The Irishman from Netflix will world premiere as the opening night film of the New York Film Festival on September 27.
The crime saga starring Robert De Niro, Al Pacino and Joe Pesci will open in select theatres and on the platform later this year in what could be a similar release pattern to that of Netflix's Oscar-winner ROMA last season, as the platform seeks its first best picture Oscar winner.
Netflix is yet to unveil details of the theatrical release plan. The streamer earned a reprieve earlier this year when governors at the Academy Of Motion Pictures Arts And Sciences ruled that films that open in non-theatrical media on the same day as their theatrical release will remain eligible for Academy Awards.
According to industry sources Netflix spent approximately $60m on the release and awards campaign for ROMA, which won Oscars this year for best director and cinematographer (Alfonso Cuarón) and best foreign-language film. (From this year the category is called the best international feature film.)
The Irishman is based on Charles Brandt's non-fiction book I Heard You Paint Houses. De Niro plays the titular character Frank Sheeran aka The Irishman, who has links to the Bufalino crime family and may have been involved in the murder of Teamsters union boss Jimmy Hoffa, who disappeared in 1975. Pacino portrays Hoffa, and Pesci is Pennsylvania mob boss Russell Bufalino.
"The Irishman is so many things: rich, funny, troubling, entertaining and, like all great movies, absolutely singular," said Kent Jones, director and selection committee chair of the New York FIlm Festival. "It's the work of masters, made with a command of the art of cinema that I've seen very rarely in my lifetime, and it plays out at a level of subtlety and human intimacy that truly stunned me. All I can say is that the minute it was over my immediate reaction was that I wanted to watch it all over again."