EXCLUSIVE: Rajasthan-set drama will receive its world premiere at the upcoming Locarno film festival.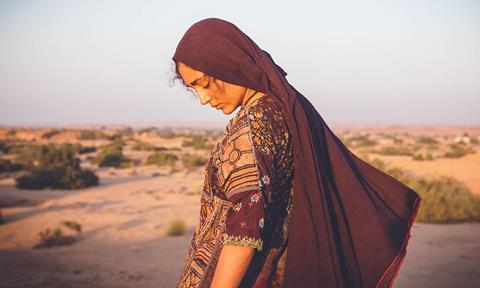 The Match Factory has picked up international rights to Anup Singh's third film, The Song Of Scorpions, which will receive its world premiere in a Piazza Grande screening at the upcoming Locarno film festival.
Starring Golshifteh Farahani and Irrfan Khan, the film follows a carefree, independent tribal woman who is learning the ancient art of healing from her grandmother, a revered scorpion-singer.
A camel trader in the Rajasthan desert hears her sing and falls in love, but before they get to know each other, she is poisoned by a treachery that sets her on a perilous journey to avenge herself and find her song.
Produced by Swiss production company Feather Light Films, founded by Saskia Vischer and Shahaf Peled, and Michel Merkt's Monaco-based KNM, the Swiss-French-Singapore co-production also stars Waheeda Rehman, Shashank Arora and Tillotama Shome.
It was produced in association with Ciné Sud Promotion, Aurora Media Holdings and M! Capital Ventures and has support from the Swiss Federal Office of Culture (FOC), Cinéforom, Loterie Romande, CNC Cinémas du Monde and Eurimages.
The Match Factory also handled international sales on Singh's previous film, critically-acclaimed drama Qissa - The Tale Of A Lonely Ghost, which premiered at Toronto in 2013 and has received 15 awards to date.
"I'm very excited to continue working with Anup Singh, this time with The Song Of Scorpions, a high profile feature with incredible cast. We are delighted to bring this film to audiences across the world," said The Match Factory managing director Michael Weber.
"We are thrilled to join forces with an established sales company in a strong position to pave the way for The Song Of Scorpions to meet the widest possible audiences worldwide. The potential is vast and we know The Match Factory is the most qualified partner to optimise all these possibilities in today's marketplace," said Vischer and Peled.
France-based Iranian actress Farahani has credits including Jim Jarmusch's Paterson and Neil Burger's upcoming remake of Intouchables. Indian actor Khan regularly appears in Hollywood films and also starred in Indian indie successes The Lunchbox and Singh's Qissa.
Read more:
Locarno Festival 2017 line-up revealed