Minster for digital and culture Matt Hancock has flagged "success, access and synthesis" as the three cornerstone principles of his strategy for the creative industries.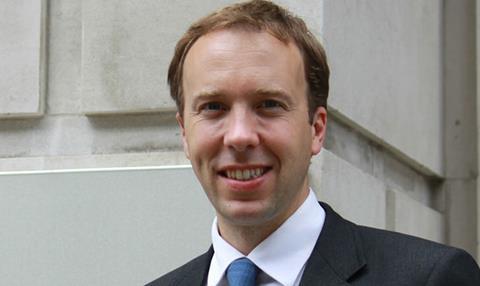 Speaking at a Creative Industries Federation event at London's BFI Southbank, Hancock urged the creative industries to increase access, arguing that the sector has "a special responsibility to be a force for openness and social mobility in Britain".
It was the minister's first speech addressing all of the creative industries since the former paymaster general was appointed to the role in Teresa May's new cabinet in July.
Hancock pledged to "fight to ensure that the creative and digital industries are at the heart of the government's industrial strategy", and backed tax breaks as a success story in growing the sector, crediting the high-end television tax relief in 2013 for "the nascent boom in high quality television dramas".
Pointing to the launch of Project Diamond as one of his first acts as culture minister, Hancock said he wanted to see the initiative go further.
"Talent is not restricted to the privileged and the comfortable," the minister said. "And as talent is so even-handed, so should its gatekeepers be."
He added: "I make no apology for holding you to a higher standard than the rest of the private sector."
Finally, he said "synthesis" related to the relationship between culture with digital technology. "Increasingly, we're able to meld time-honoured craft with cutting edge technology," he said, citing it as "the sweet spot for our future prosperity".
Hancock's parliamentary private secretary, MP for Eastleigh Mims Davies, was in attendance at the event, as was policy adviser Jonathan Badyal, who also advised former culture minister Ed Vaizey.
The minister paid tribute to the work of his predecessor, saying he had been "a brilliant culture minister – the longest serving in history. He's been a good friend to me and I'm incredibly grateful to him both for all the work that he did and all the support that he's given me in my first few weeks in the job."