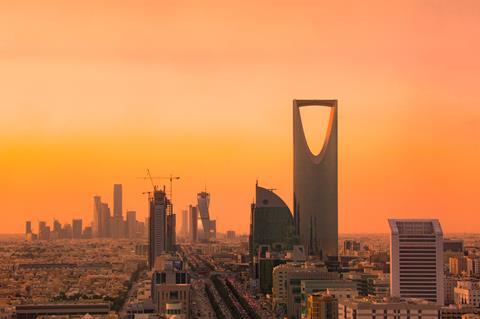 Dubai-based 03 Productions, the TV and film production arm of pan-Arab media company the MBC Group, and entertainment company Image Nation Abu Dhabi have announced they are joining forces to co-finance and co-produce a slate of Saudi films.
The collaboration comes amid Saudi Arabia's drive to build the biggest film and TV industry in the Gulf region, following the lifting of its 30-year-ban on cinema last December.
"There is so much to be done in this brave new drive and we believe in collaboration with those who have same ambitions and vision," said Fadi Ismail, group director of O3 Productions.
"Image Nation is a trusted and established player in the film industry and we have joined forces to launch a slate of Saudi films that will promote Saudi storytelling and talents."
Much of the new slate is largely under wraps but the partners revealed the genres are likely to include, action, thriller, real-life dramas and are likely to include, action, thriller, real-life dramas and comedies.
The projects will aim to film in Saudi Arabia, using Saudi talent in front of and behind the camera. Development has begun on all projects, with production set to commence in 2019.
The new projects include Saudi comedian and writer Fahad Al Butairi's Love Above The Law, a comedy about a middle-class Saudi man and a girl from the Badiya, the rural community, who marry and discover they actually have a lot in common.
Butairi previously collaborated with Image Nation on From A To B and the upcoming Rashid And Rajab.
"We're delighted to be working with the multi-talented Fahad Al Butairi again on Love Above the Law. This deal really underscores Image Nation and MBC's shared commitment to producing high-quality Arab language film and television projects for the Arab world," said Ben Ross, head of narrative film and television at Image Nation.
This new accord deal follows on from the previous film and TV deal that MBC and Image Nation announced last year.
Under that deal, O3 and Image Nation are currently in advanced development on the feature film adaptation of Saudi pop culture smash HWJN, about a devout God-fearing Jinn who forges a special bond with a talented Saudi female medical student.
Emirati filmmaker Majid Al-Ansari, who previously directed Image Nation's Zinzana and has served as executive producer on a number of Image Nation's other projects will direct the film, which will commence shooting in the Autumn this year. An extensive casting search in Saudi Arabia is currently underway for the leads in the film and casting will be announced in due course.
A spin-off TV series The Delusionists which also has a unique take on modern Saudi and Arab society will also go into production back-to-back with the film.