What's on offer at this year's Media Production Show.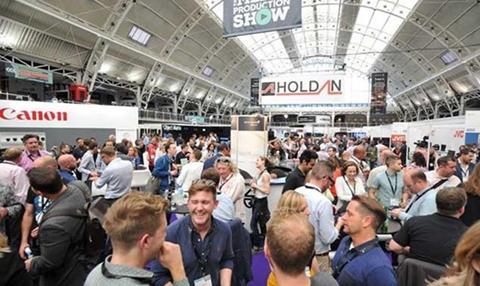 The Media Production Show brings together inspiring industry speakers and some of the biggest broadcast equipment manufacturers. Here we present a selection of what's on offer
Some of the biggest manufacturers in the industry will be showing their latest products at this year's Media Production Show, among them JVC, Panasonic, Canon and Cooke.
Across the two days (13-14 June), the Keynote Theatre will host a series of sessions, with speakers ranging from the series producer of Planet Earth II to the VFX supervisor on Taboo.
JVC (Stand 518) will demo new capabilities for its GY-LS300 4KCAM Super 35 handheld camcorder, including increased colour resolution to 4:2:2 in 4K mode recording.
Available via version 4.0 firmware, the update allows recording at 24/25/30p onboard to SDXC media cards. It also expands Ultra HD (3840 x 2160) output to include 50/60p via HDMI and improves the IP remote function to allow remote control and image viewing in 4K.
Upgraded models
JVC will also be showing its PTZ cameras, including the KY-PZ100, a robotic production camera that works natively with NewTek's TriCaster multi-camera video production system. Two upgraded models in its 600 Series of ProHD mobile news cam corders will also be on display: the GY-HM660, a streaming camcorder with integrated IFB (interruptible foldback) audio, and the GY-HM620.
Soliton Systems (Stand 538), the manufacturer of mobile video contribution devices that use H.265 encoding over 3G or 4G mobile networks, will showcase the Zao-S, a miniature encoder weighing just 400 grams that provides live video streaming directly from a camera.
H.265 encoding, also known as HEVC, is said to be 50% more efficient than H.264, allowing quality video to be delivered on half the available bit rate.
Canon (Stand 302) is showing a new 4K compact camera that supports a new version of its existing recording format, Cinema RAW. The C200 houses a Super 35mm CMOS sensor and can record 4K at 50fps. The new format, Cinema RAW Light, is said to provide the same flexibility in colour grading but does so in a smaller fi le size that can be recorded internally.
Global Distribution (Stand 318) will be giving a UK debut to a host of kit, including Atomos' Sumo. The 19-inch High Dynamic Range (HDR) recorder-monitor with switching capabilities was first unveiled at NAB in April. Also on show from Atomos will be the Flame and Inferno series.
Other highlights include Accusys' 4-Port Thunderbolt 3 shared storage and StorNext and ZFS storage from Symply Ultra.
Along with its new EVA1 camera (see page 15) Panasonic (Stand 416) will be displaying the complete VariCam line-up, including the VariCam 35, the compact VariCam LT and the VariCam Pure, which provides 4K uncompressed raw at up to 120fps.
The company will also be showing its latest 4K and HD remote cameras for fixed-rig installations, education and live streaming. The AK-UC3000 4K live studio camera will also be on display.
Cooke Optics (Stand 552) will have two new lenses on show, including one that was launched at NAB. The S7/i Full Frame Plus prime lens range is designed for the full frame cinema camera sensors market, including the Red Weapon VV 8K and the Arri Alexa 65 in 16:9 mode.
The Panchro/I Classic range is a modern redesign that achieves the same look and feel as the original Speed Panchros but has new housing and PL mounts. Lenses S4/i and miniS4/i ranges and the Anamorphic/i SF lens range will also be on show.
BT Media & Broadcast (Stand 528) will showcase Media Move, a fully managed fi le delivery service for the media production industry.
New features include the ability to automatically download fi les in the background. This is said to help group email accounts and allows fi les to be auto-sorted into the right project folders.
A mobile app is also available for journalists, allowing images and videos to be sent and received direct from a phone or tablet, using the same fast secure service.
Rotolight (Stand 312) is bringing its AEOS LED location light to the show. The bi-colour, location LED light features a unique 'ultra-thin' design concept and includes integrated aluminium handles that give users the freedom to 'work the light' at angles and positions not otherwise possible.
The Anova Pro and NEO lights will also be on display.
ThreeFour Media (Stand 326) will showcase its cloud-based postproduction service. Audio and video tools and workfl ows for broadcasters and producers are provided across a range of functions including transcoding, editing storage, DPP spec creation, PSE, QC, frame rate conversion, audio mixing, foley, dubbing, R128 and restoration.
The service is offered in both a physical and virtual working environment, allowing it to "scale dynamically to meet demand", the company says.
G-Technology (Stand 320) is showing its full range of storage products from the 1TB portable
G-Drive Mobile Slim SSD right up to the 500TB G-RACK 12 centralised NAS system. There will also be a focus on the new Thunderbolt 3 family, including the G-Speed Shuttle XL Evolution series workflow and the G-Raid and G-Drive.
The company will show different scenarios for Thunderbolt 3 and USB-C and staff will be available to answer questions and provide advice on storage products.
Artem (Stand 346) will demonstrate a selection of bespoke props, from severed heads and giant scorpions to prop food and friendly robots. Staff will be on hand to discuss the SFX company's raft of services.
Based in London and Glasgow, Artem recently expanded its 3D scanning facilities with the acquisition of a structured light scanner that will be used alongside its existing scanning, 3D printing and seven Axis robot arm sculpting capabilities.
Groovy Gecko (Stand 552) will be showing live streaming functionality, including demos of 360-degree video and options for Facebook Live.
The company recently provided a polling feature for a live campaign for Waitrose and has deployed multiple page distributions into Facebook, Periscope, VK and Twitch. Staff will be available to discuss these projects.
Belgium's AED Studios (Stand 402) will be attempting to persuade UK line producers, directors and production companies to travel the short distance to mainland Europe to shoot.
In addition to production space, the facility offers backstage facilities, a watertank, flexible warehouses, hotel facilities and office space.
The Media Production Show takes place 13-14 June at London's Olympia.